Riddick 3
Scooter: Are you all right? What happened? I heard shouting. Kitty: What the h...? Who...? Where did you come from? Scooter: I'm Scooter. I just started working here. Kitty: I'm Kitty. Scooter: Let me help you on your feet.
Riddick 4
Scooter: So, are you all right? You look a bit shaken. Kitty: Shaken, not stirred, tee hee. Wow, he got raving mad. I've never seen anything quite like that. And believe me, I have seen a lot. Scooter: Who? What are you talking about? Kitty: Sorry, of course you have no idea what I'm talking about. Don't worry, I'm fine. But I think we better go somewhere else before he comes out. That is, I better go somewhere else.
Riddick 5
- What the hell did I just do?
Riddick 6
Kermit: Hi Riddick! What's wrong? You look awful. Riddick: Nothing. Just thinking that maybe I should have stayed away. Kermit: Nonsense. Try to concentrate on work and everything will look better in no time. Riddick: You think so?
Riddick 7
Kitty: Max, this is Scooter. He's new here. Orlock: Hello. Kermit mentioned something about you earlier. Nice to meet you. Scooter: Um, nice to meet you too. Where are you from? Not around here, I think. Orlock: I come from far, far away. All the way from the mountains of Transylvania... Hey, I'm just kidding. Don't look so scared.
Riddick 8
Orlock: Kitty, you look a bit shaken. What happened? Kitty: Riddick. He got furious at me. Grabbed me and threw me out of Kermit's office. I flew out before I had time to fully realize what was happening. That was a new experience. Orlock: Didn't someone say fairly recently that "life without thrills is not worth living?" Kitty: Yeah, but I wasn't expecting something quite like this.
Riddick 9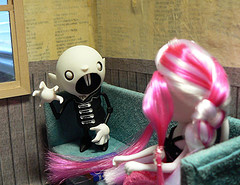 Orlock: I have a suggestion. How about you stop irritating him on purpose? Kitty: What do you mean "on purpose?" Orlock: Come on, you enjoy making him mad. It just isn't at all safe right now. Keep out of his way for a while. Kitty: All right, if it makes you feel better.
Riddick 10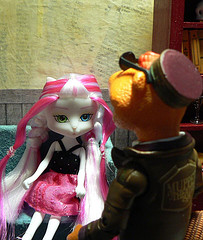 Scooter: Who's Riddick? And why would he do something like that? Kitty: It's a long and ugly story. Maybe I'll tell you some day. Scooter: I'd like to hear about it. Now, is there anything I can do for you before I get back to what I was supposed to be doing? Kitty: No, not really. But thanks for asking.
Riddick 11
Kitty: It's bad. There must be something you can do to help him. Peggy: I'm sorry you went through the trouble of coming here for nothing. Whatever there was between me and him, it was a long time ago. Besides, we didn't exactly do much talking. Kitty: But...
Riddick 12
Peggy: He needs someone to talk to. That isn't me. I wish I could help, but I don't see what I could do. You're his friend, can't you talk with him? Kitty: I don't know about that friendship. Besides, considering our last discussion, it's quite clear he doesn't want to see me at the moment.
Riddick 13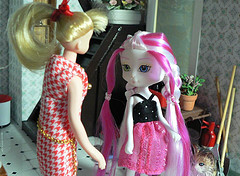 Kitty: Do you know anything about his past? Friends, relatives, that sort of thing? Peggy: All I know is that he's a foundling and he's had a hard and solitary life. - Why don't you try his former boss? Maybe she could help. I know he likes and respects her. Kitty: Veronika? Yes, maybe I could give her a call.
Riddick 14
Riddick: Remember when you told me what you found out about Piggy? Chef: Yes. What about it? Riddick: You asked me if I could love someone who's capable of poisoning people. I said I could. It seems that it isn't quite that simple.
Riddick 15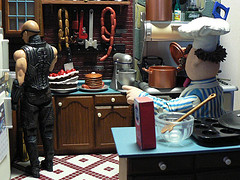 Chef: You mean Chase? Riddick: I can't stop thinking about her. One moment I hate her, the next I want her back, even though I know she would only have hurt me more, given time. Chef: Sorry, can't help you with that. Only time will help and even that's not guaranteed.
Riddick 16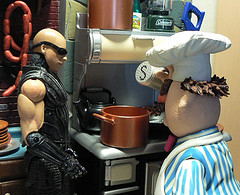 Chef: However, hurting Kitty doesn't help anything. Riddick: You heard about that then? Chef: Yes. Apparently you weren't exactly quiet and a lot of people heard it. And the rest are going to hear about it sooner or later. Riddick: What do you think, how bad is it going to be?
Riddick 17
Chef: In case you haven't noticed, things are different nowadays. It's because of Wendy. Riddick: She does have certain command. Even Miss Piggy has become less aggressive since Wendy moved in. Chef: So, you just can't go about physically abusing anybody, no matter how much they irritate you. She won't tolerate that and I expect you'll be hearing from her as soon as the rumors reach her.
Riddick 18
Riddick: I've been thinking about leaving. Chef: What? Running away from trouble? That must be a novel concept for you. Riddick: Please don't start. You're the only one I can talk to. Chef: Sorry. But you must admit that running away won't solve anything. And we are your friends, in case you have forgotten.
Riddick 19
Kitty: Where did these come from? Orlock: Isn't there a card or something? Kitty: No. Just the flowers. Orlock: Maybe you have a secret admirer.
Riddick 20
Wendy: Kitty, are you all right? I heard about Riddick attacking you. Do you want me to do something about it? Officially, I mean. Unofficially I will speak with him anyway, whether you want it or not. Kitty: I'm fine. It was nothing. He just lost his temper for a moment. Wendy: Do you have any idea how many times I have heard that one?
Riddick 21
Kitty: Do you have any idea how many times I have seen it happen? I don't mean with him and not quite like this time, but still... Wendy: All right. There isn't much I can do without you reporting it, so we'll leave it for now. Let me know, if you change your mind. Or if he does something like that again. Kitty: I'm sure he won't. Who told you anyway? It's nobody's business but mine and his.
Riddick 22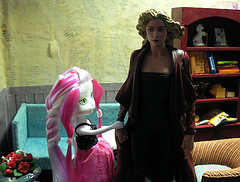 Kitty: Is Kermit going to throw him out because of this? I wouldn't want that to happen. Wendy: I don't think so. At least, not after one incident, especially if you say there is no problem. But maybe you should worry more about your own safety than his job. Kitty: Don't worry, I'm perfectly safe. - And Wendy, don't be too hard on him.