Riddick 23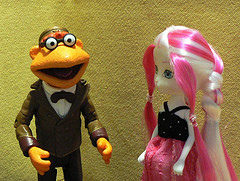 Kitty: Have you been here before? You seem to know the place. Scooter: I used to work here some years ago, but then I left because I wanted to see the world. Kitty: Seen enough already? Or why did you come back? Scooter: The world wasn't as nice as I thought it would be. You could say that I wanted to take a break from it. Kitty: I know what you mean.
Riddick 24
Scooter: Did you like the flowers? Kitty: Were they from you? Why didn't you leave a note? I was wondering where they came from. Scooter: I didn't want your pale friend to know. Kitty: Thank you. They were lovely.
Riddick 25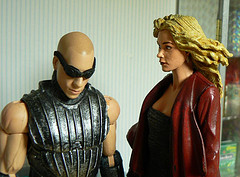 Wendy: You know what I'm going to say. Riddick: If it's about Kitty, I know I was way out of line. Wendy: It was more than just "out of line." I understand that the thing with Chase is eating you, but you must control yourself. Riddick: It won't happen again, I promise. Wendy: Better not. Next time I won't ask her if she wants to report it or not.
Riddick 26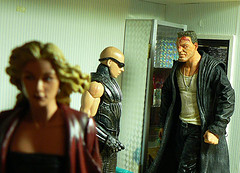 Marv: Hi Riddick. Wasn't that a cop? Riddick: Marv, what are you doing here? And yes, she was. Except she's also the manager's wife. But why are you here? Marv: I'm here for Miss Piggy. We're going out. Riddick: What?! Sorry. No offense, but that was a surprise. Marv: Yeah, I guess it would be. It's not everyday someone like her shows any interest in someone like me.
Riddick 27
Riddick: How did that happen? Marv: Kitty. She's always meddling, but sometimes it's a good thing. Remember I told you that deep down she's nice? Riddick: Yes. I remember... and I know... But are you sure you know what you're doing? Piggy's no angel. Marv: Neither am I.
Riddick 28
Marv: I heard about what happened with Chase. You were lucky to get off as easy as you did. Riddick: Easy? Marv: Think of the guys six feet under before feeling too sorry for yourself. Riddick: You got a point there.
Riddick 29
Riddick: About Kitty... You're going to hear this anyway, so let's get it done with. I lost my temper and shook her quite badly. Shouldn't have done it. - So, are we going to have a fight over it? Marv: Are you seriously saying you did that? You don't look like it. Well, I expect Kitty wants to take care of it on her own anyway, so it doesn't matter. But I don't envy you, if you're telling the truth. Riddick: You're being very cryptic. Care to explain in more detail? Marv: And spoil the fun? Not likely. He he. - However, I can give you a hint. Kitty isn't into mind games like Chase.
Riddick 30
Scooter: Excuse me, could you tell me where Kermit is? Riddick: He'll be here in a minute. Who are you? I haven't seen you before. Scooter: I'm Scooter. I just started here. Or rather, came back after being away for few years. Riddick: I see. I'm Riddick. Scooter: Oh. Riddick: What's that supposed to mean?
Riddick 31
Scooter: It means that I'm the guy who helped Kitty up after you had thrown her out of here. How could you do something like that to someone so much smaller than you? Riddick: It's none of your business. Scooter: She could have been hurt badly. Did you ever think about that? Riddick: Didn't you hear what I said?
Riddick 32
Scooter: I heard someone say that you're supposed to be a security guard or was it a bodyguard... Anyway, how can you have such a job, if you can't control yourself? Riddick: If you know what's good for you, you shut up right now. Scooter: Or what? Are you going to get violent again? Riddick: I think I will go now, before I do something I shouldn't.
Riddick 33
Riddick: Can I come in? Kitty: Depends. Will you behave? Riddick: Yes. You don't need to be afraid of me. Kitty: I'm not afraid of you. But I must admit you surprised me. Anything like that hasn't happened in a long time.
Riddick 34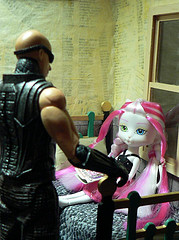 Riddick: I came to say I'm sorry. Kitty: Apology accepted. - Wendy was talking to me about reporting it and some other nonsense. I managed to talk her out of it. Riddick: I promise nothing like that will ever happen again. And I have already been scolded by several people, so would you please make yours quick. Kitty: I think I'll pass. You did more harm to yourself than me, really.
Riddick 35
Kitty: What happened? You were furious. Riddick: I'm sorry. I cannot offer you any explanation that would make sense. No excuses either. It was inexcusable. Kitty: But basically it's because of Chase. I'm not her. And she's still my sister. That's a fact that will not go away however much I may wish it would. Riddick: I know.
Riddick 36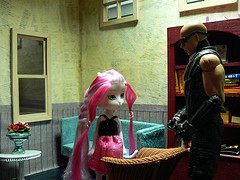 Kitty: I saw Marv. He's not going to fight with you. He didn't even suggest it, because he knows I take care of my own business. I don't understand why you asked him. Did you want him to beat you up? Riddick: Why would I want that? Kitty: I don't know. Maybe to be punished, so you wouldn't feel so guilty. Riddick: You really have the strangest ideas.
Riddick 37
Riddick: So, where did the terrier come from? Kitty: Huh? Riddick: Scooter. He was quite persistent. He seemed to think you needed defending. Kitty: Eh, he don't know me very well, do he? Riddick: And he's also either very brave or very foolish, considering his size. Kitty: Really? We only just met, but he was very nice. He even got me flowers. Riddick: Is that what it takes to be nice? Kitty: I guess you wouldn't know anything about that.