Scooter 1
Marv: You're looking well. Riddick: Why wouldn't I be? Marv: No reason. I heard you and Kitty had a talk. I assume you're friends again. Riddick: As much as we can be, I suppose.
Scooter 2
Riddick: Kitty, there's something... Sorry. I didn't know... Kitty: You know, you're supposed to wait after you knock on the door. Riddick: Yes... um...
Scooter 3
Scooter: Maybe I should go and leave you two to talk whatever it is you need to talk about.
Scooter 4
Riddick: I really am sorry. I didn't think... Kitty: You didn't think I could have a private life. Is that what you're trying to say? Riddick: No, I didn't mean... Kitty: Just teasing. I think poor Scooter was even more embarrassed than you. Riddick: I think he hates me. Can't blame him really.
Scooter 5
Kitty: What was it you wanted to talk about? Riddick: Kevin, the lawyer. I expect you know he's defending Chase. Kitty: Yes. What about him? Riddick: He called me and wanted me to go to the trial and speak for Chase. Kitty: Damn. I told grandma she should forget the idea.
Scooter 6
Riddick: You knew about it?! And said nothing? Kitty: Now don't start. Grandma asked me and I said it was an extremely bad idea. I didn't mention it, because I believed she had given it up. Riddick: Sorry. I didn't mean to shout. Kitty: What did Kevin say when you declined? Riddick: He said that he had been expecting it, but he had to ask. It's not his fault, he's just doing his job.
Scooter 7
Marv: Kitty, I was looking for you. We need to talk. Kitty: Everybody is so talkative today. What do you want to talk about? Marv: The past. Kitty: What about it? It's gone and best forgotten. Marv: I want to tell you I'm sorry about how things went between us then.
Scooter 8
Kitty: There never was much between us. I hardly knew you when Chase enticed you away from me. It's the story of my life, I guess. Marv: Do you mean Riddick? Kitty: What gave you that idea? No, he's just a friend. Marv: Just keep in mind that he's dangerous. I must say I found what he told me very surprising, considering how he looked.
Scooter 9
Kitty: I've never seen anyone that fast. He took me by surprise. But he apologized later and we're all right now. Marv: Yeah, that was another surprise. I mean that you actually talked with him and sorted things out that way. That's why I thought maybe you and him... Kitty: You shouldn't think too much. You should just focus on Piggy. Marv: All right, I can take a hint.
Scooter 10
Scooter: Who was that? What did he want? Kitty: His name is Marv. He's an old friend. Very old friend. Scooter: You certainly have strange friends. Is muscle mass some sort of selection criteria or what? Kitty: What do you mean? Scooter: Sorry, I shouldn't have said that. I guess I just can't help comparing myself to those big guys and wondering what you see in me.
Scooter 11
Kitty: Like I said, they're friends. You really should try to look past the appearance. Scooter: That doesn't help much with Riddick. About this other guy I wouldn't know, because I haven't talked with him. Kitty: Maybe you should. He could tell you some interesting stories about the past, the time before my sister messed up everything.
Scooter 12
Kitty: Toby, where have you been hiding? Scooter: Talking about your scary friends... Kitty: Oh, Scooter. You don't need to be afraid of him. Most of the time he is just an oversized lapdog. Scooter: Yeah, a lapdog who can rip you apart, if you make the wrong move.
Scooter 13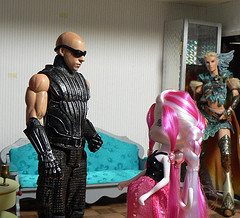 Kitty: You said earlier that Scooter hates you. I didn't take it seriously, but he does seem to have some issues about guys who are much bigger than him. He wasn't very polite about Marv. Riddick: It happens. I don't pay much attention to that sort. Beating up a little guy just because of what he says isn't my thing. Although I must admit it was a close call in Kermit's office.
Scooter 14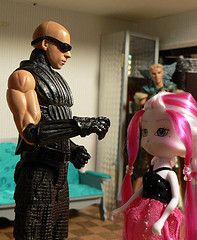 Kitty: It's so strange. He's otherwise really nice. Riddick: I'm sure he is nice. Just give him a little time to get used to everything. Kitty: Especially Toby. He seemed scared to death of Toby. Riddick: That's no surprise. In fact, that's the way it's supposed to be. You're just spoiling that dog.
Scooter 15
Val: Hello, I'm Val. Riddick: Riddick. You're the guest star? I noticed you earlier with Kermit. Val: That's right. I'll be here for a few evenings. And I noticed you, too. - I was watching you and that little girl. Is she your girlfriend? Riddick: No, just a friend.
Scooter 16
Val: It looked like she might be a girlfriend, but of course she's much too young for you. Riddick: Don't be fooled by the way she looks. She's a lot older than you might think. Val: Still, I just can't imagine you with someone so cute and harmless. You're not that type. Riddick: Cute and harmless? Ha ha ha! If you only knew...
Scooter 17
Riddick: I guess a warning is in place: She's not malicious, but she can cause you all sorts of trouble, if you give her any reason to do so. Val: Would it count as a reason, if I asked you to my dressing room for a drink and a chat? Riddick: No, but I'm not sure if that's such a good idea. Val: Why not? Is it this stupid costume? I can take it off.
Scooter 18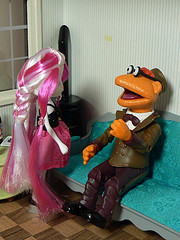 A couple of days later: Scooter: You and Riddick... How can you be nice to him after what he did? Kitty: He's a friend. Scooter: But how can you forgive something like that so easily? He attacked you. Kitty: You may find it strange, but there was never any real danger. Besides, he had his reasons. Scooter: It is very hard for me to try to imagine what those could be.
Scooter 19
Scooter: So, are you going to tell me what it was all about? Kitty: It's a long story and a hell of a mess. And the less you know about my family, the better. Scooter: Oh. I see. Kitty: No, you don't. My sister is going to be a convicted criminal very soon and my grandmother is a woman who tries to look 30 years younger than she is and thinks that a goat is a reincarnation of her late husband. Scooter: OK, maybe I don't need to know any more about them. Kitty: I told you so.
Scooter 20
Orlock: Kitty, did you hear the latest rumor? Kitty: What is it this time? Somebody should teach those penguins a lesson about not interfering all the time. Orlock: Don't start about them again. This is important. You know that guest star, the blond in some sort of viking gear? Kitty: Yeah, I noticed her. So?