Scooter 21
Orlock: Well, it seems that Riddick... you know... with her... Kitty: Come on, out with it. What did he...? I see. And what makes you think I would be interested in what he does on his own time? Or who he does it with, as long as it isn't Chase? Orlock: Well... Kitty: Well nothing. You should know better. If I were you, I wouldn't let him know that I've been spreading rumors like that. Understand?
Scooter 22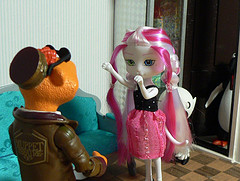 Scooter: Are you sure that it doesn't bother you? Kitty: What is it with everybody? The next one who even hints at anything like that will receive a brand new piercing in some totally unexpected body part! Scooter: Um, I think I'm needed in the wardrobe. I'll see you later.
Scooter 23
Kitty: Damn! Damn! Damn! Why can't you keep you big mouth shut? Orlock: Kitty? Are you all right? - Maybe I should go too...
Scooter 24
Orlock: You were a bit scary there. I've never seen you lose your temper. Kitty: It just came out without thinking. I should really try to be more careful. At least around Scooter, he scares so easily. Orlock: Why do you care so much about him, if he can't even accept what you are? Kitty: He's nice and normal. I like that.
Scooter 25
Val: Hello, you're Kitty, aren't you? Kitty: Yes. Do you need help with something? Val: Not exactly. I'm just a bit curious and as you seem to know him well, I thought maybe I should ask you. Kitty: You mean Riddick? What do you want to know? Val: Is there someone special in his life?
Scooter 26
Kitty: No, but I don't think he's interested in any serious relationships right now. He just got out of a really bad one. Val: Of course. Just my luck. Well, at least I had some fun. And believe me, it has been fun. Kitty: I'm not sure I want to hear about that. It's really none of my business. Val: Sorry. I didn't mean to make you feel uncomfortable. Kitty (thinking): Oh yeah? Am I supposed to believe that?
Scooter 27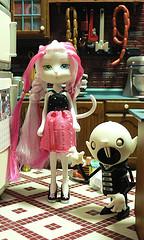 Orlock: What did she want? Kitty: I'm not quite sure. She's clearly interested in Riddick. Interested enough to ask questions. Orlock: She'll be gone soon. Kitty: It doesn't matter. She isn't important. Just another dumb blonde. Although it would be fun, if I found a way to ruffle her feathers a little before she leaves. Orlock: Oh no.
Scooter 28
Veronika: Riddick. Riddick: What are you doing here? I mean, it's nice to see you, I just wasn't expecting... Veronika: Don't worry, I know manners aren't your strong point. - I thought I should pay you a little visit. To come and see for myself how bad things were. Riddick: What do you mean? Or rather, how did you know? Veronika: Kitty called me and told the "highlights" of what's been going on. Riddick: She shouldn't have done that.
Scooter 29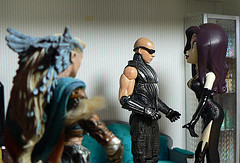 Veronika: Don't be angry at her. She was concerned, and so was I when I heard what she had to tell. Riddick: Did she also tell you what I did to her? Veronika: Yes, but I suspect she was playing it down. How bad was it? Riddick: Bad enough. Although she's a tough one. A lot like you, in fact. Veronika: Really? That's interesting. - So, what's the situation now? Are things getting under control again? Riddick: More or less.
Scooter 30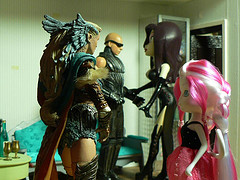 Kitty: See that lady there? She's Veronika, his former boss. Although there was always some talk that it was more than that. Doesn't she look great? Val: I guess so. I mean, if you go for that type. Kitty: I think he does. He's been so miserable. It's nice that she came to visit and cheer him up. Val: Right. Excuse me, I have to talk with him.
Scooter 31
Val: Riddick, can I have a word? Riddick: Sure. Veronika, this won't take long. Please don't go anywhere. Veronika: I'll wait.
Scooter 32
Val: I'll be going after the show. Will we see each other again? Riddick: I don't think so. I thought I made it clear. Val: Yes, but still... Is it because of the bad experiences you have had lately? I got that impression from your little friend. Riddick: Kitty? What did you say to her? Val: Just asked a few questions. Riddick: And was that really necessary? Val: I didn't notice her getting upset, if that's what you're worried about.
Scooter 33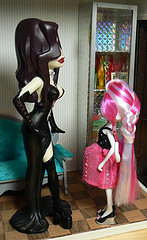 Veronika: I know your sister was the actual problem, but does the timing of the call have anything to do with that silly looking blonde? Kitty: Um, sort of. She was a bit irritating and I thought she deserves a lesson. Veronika: Sure. I can do that. I'll play super affectionate while she's around. Kitty: Thanks. You're great. And I hope you can talk some sense into him. If he can't control himself, he's going to end up in more trouble.
Scooter 34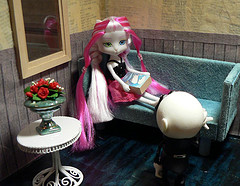 Orlock: What have you done? Kitty: What do you mean? Asking Veronika to come here was very sensible. He's going to listen to her and maybe things will get better. Orlock: And are things going to get better by letting Val understand that there's something going on between Riddick and Veronika? Kitty: Sure they are. I feel a lot better already.
Scooter 35
Scooter: Kitty; there's something we need to talk about. Alone.
Scooter 36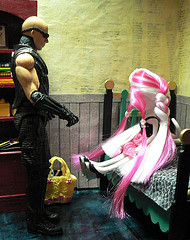 Riddick: What's wrong? Kitty: Scooter left. He got scared. I scared him away. Riddick: What did you do? Kitty: Lost my temper. Riddick: Was it that free body-piercing offer? I must say I found it amusing. Although no one was willing to tell me what triggered it. Kitty: Don't laugh. It just somehow got out and now Scooter's gone. At least he had the courage to come and tell me himself that he was leaving.
Scooter 37
Riddick: If he got scared so easily, do you think it could have worked? He would have found out the rest eventually and I very much doubt he could have handled that. Kitty: I guess you're right. Wait a minute, what do you mean "the rest?" Riddick: Just how many scars on Marv's face are your doing? - Never mind. Forget I asked.
Scooter 38
Riddick: Scooter is an idiot. - Sorry, maybe I shouldn't have said that. Kitty: It's OK, I'm currently inventing a lot more interesting expressions for him. - Could we talk about something else?
Scooter 39
Riddick: What I came to talk about was Veronika. You really shouldn't have called her, but I'm glad you did. She always manages to put things into right perspective. Kitty: Well, it's good that at least one of us isn't miserable at the moment. - By the way, how's Val? Riddick: Gone. I heard she had been asking you questions about me. Kitty: She got a bit irritating. Then I irritated her back. Riddick: With a little help from Veronika? Don't think I didn't notice.
Scooter 40
Riddick: I thought you were gone already. Scooter: Well, um, there were a couple of things I had to take care of before leaving. Riddick: Do you have any idea what an idiot you are? Throwing everything away because she's a bit more than you imagined. Tell me, what did you expect, considering she's a cat? Scooter: It's none of your business.