Kevin 18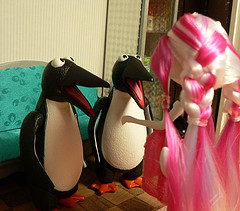 Kitty: You said Kevin meant trouble. I believed you and ended up hurting a kid who's harmless nowadays. Right now, I am wondering what I should do with you. Penguin 1: What do you mean "do?" Kitty: You know that body piercing threat? You should, you're the ones who told Riddick about it. Well, it wasn't an empty threat.
Kevin 19
Penguin 2: You can't! How were we supposed to know he's changed? We just wanted to warn you. Why are you blaming us? What do you expect us to do? Kitty: How about not sticking your beaks into things that don't concern you in any way? Penguin 1: What are we supposed to do, then? Go around with our eyes and ears shut? Kitty: That sounds like a good idea. Mouth shut, too. If you're having problems with that, I can get you some duct tape.
Kevin 20
Penguin 2: You're being very mean. Kitty: Are you going to run to Wendy and complain? You told her about Riddick and how he lost his temper, didn't you? Should I tell him that? Penguin 1: That wouldn't be very nice. Although, I'm sure he wouldn't do anything about it. Kitty: Are you absolutely certain? What if I asked him to do something? Penguin 2: You wouldn't! Kitty: All right. I'll let it go this time. But you should think more carefully what you say and about whom.
Kitty 1
Riddick: So, you scared the penguins, too. Let's hope they won't go to Wendy. Kitty: I don't think so. I told them that if they do that, I'll make you do something to them. They're more scared of you than me. Riddick: You really are impossible. Kitty: Maybe, but perhaps they will be more careful from now on.
Kitty 2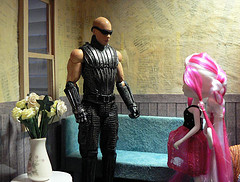 Riddick: It's getting late, I better go. Kitty: You could stay. Riddick: What? - No. Kitty: Why not? You like me, don't you? Riddick: Of course I like you, but that's not the point.
Kitty 3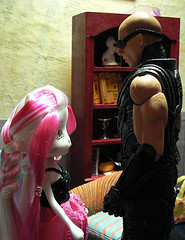 Kitty: What is the point, then? Riddick: You don't mean it. Not really. Kitty: Of course I do. I thought I put it clearly enough. Riddick: Why are you doing this?
Kitty 4
Kitty: Because it's what I want. No promises, no strings attached. Just stay. Riddick: Are you quite serious? Kitty: I wouldn't tease you with something like this. So, what do you say? Riddick: Yes.
Kitty 5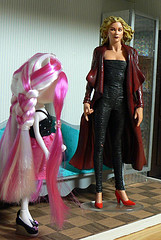 Wendy: Kitty, do you know what's wrong with Riddick? Kitty: What do you mean? What's he done now? Wendy: He's in a strange mood and he's got that guilty look. Has he been too aggressive again? Kitty: No, nothing like that. Everything's fine.
Kitty 6
Wendy: Are you quite sure? You don't look like everything's fine. What's wrong? Kitty: Just thinking about Scooter. Wendy: I understand. I'm sorry. He seemed so nice. Kitty: He was. It was all my fault.
Kitty 7
Riddick: Tell me, is it possible to learn to understand women? Chef: What's she done now? Kitty? Riddick: Nothing. It was a hypothetical question. Chef: Hypothetical, eh? Well, hypothetically Kitty is the most incomprehensible female I have ever seen and I have seen all sorts.
Kitty 8
Chef: If you want to know what goes on in her head, I suggest you go and ask her. Riddick: It's not that simple. She'll probably think I'm stupid or insensitive or something like that. Chef: That is always a possibility, but if you try guessing what she thinks, you will probably make yourself an even bigger idiot.
Kitty 9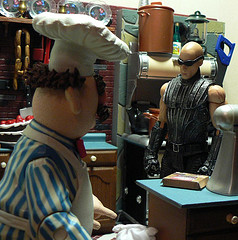 Riddick: I have another hypothetical question. No, forget hypothetical, you know I mean Kitty anyway. Why would she suddenly be interested in me in quite a different way than before? Chef: Did she make a pass at you? Is that it? Riddick: It was a lot more than that. Chef: You mean...? Riddick: Yes. And now I don't know what to think.
Kitty 10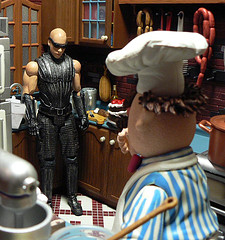 Chef: There are lots of possible reasons. From simply taking what you want to seeking acceptance, attention, consolation and whatnot. Considering that Scooter just left, I'd put my money on one of the latter reasons. Or it could be that she thought it was all you could ever offer her. Riddick: Why do I always end up feeling stupid or guilty or both? Chef: Now that was a rhetorical question, right?
Kitty 11
Orlock: What's going on? Riddick's acting strange. Penguin 1: We haven't seen anything. Penguin 2: We haven't heard anything. Orlock: All right, it's something really interesting. What did he do? Penguin 1: I don't know what you're talking about. Penguin 2: Me neither. Orlock: Tell me or I'll bite you!!!
Kitty 12
- Stupid penguins. They were really scared of him. How am I supposed to find out what's going on?
Kitty 13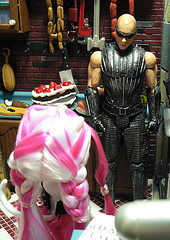 Riddick (thinking): What the hell was I supposed to do? I hope I didn't mess up everything. I'm getting really good at that... Kitty: Why are you standing there and staring? Riddick: Just thinking.
Kitty 14
Riddick: About the other night... Kitty: Yes? Riddick: Did it mean anything to you? Kitty: Like I said: no promises, no strings attached. I'm not going to start giving you any trouble about it.
Kitty 15
Riddick: I've been thinking... I think I shouldn't have... Kitty: Don't. You have done nothing wrong. Let's leave it at that, shall we?
Kitty 16
Riddick (thinking): I'll never understand her. And it doesn't make things any easier that half of the time when I look at her, I see Chase.
Kitty 17
Orlock: What are you doing? Shouldn't you be working? Riddick: I'm thinking. Orlock: Yeah, sure. How much have you already had? Does that stuff help you think or just the opposite? What have you done this time? Riddick: None of your business.