Kitty 38
Ruby: That Riddick was scary. Max: He's all right. He's just having a bad day. There's no need to be afraid of him. Remember, security is his job. Ruby: Security guards aren't always the safest people to be around. Max: What a strange idea. Anyway, you will get to know him soon enough. Ruby: Do I have to? Orlock: It's inevitable. He's often in Kermit's office.
Ruby 1
Chef: Did you manage to get things straight with her? Riddick: No, it just got more confusing. - Do you hear something? Who's that?
Ruby 2
Ruby: Help! Riddick: Toby! Stop it! - Are you all right... Ruby? That's your name, isn't it? This is Toby. He knows everyone here, so I let him roam around free at times. I didn't remember you when I let him loose. I'm really sorry.
Ruby 3
Ruby: Is that a dog? Riddick: Yes. A big one, but still just a dog. - Are you sure you're all right? You look a bit pale. Ruby: I... I'm fine. I just got scared. Riddick: I'm sorry. It was my fault. I should have remembered.
Ruby 4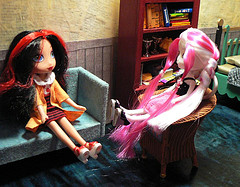 Ruby: Then there was this huge dog. I thought it was going to eat me. Kitty: You mean Toby? He is scary, I guess. Of course, I've known him for a long time and he's quite different with me. Riddick shouldn't have let him free without introducing you to him first. Ruby: Do you know Riddick well? Kitty: Yes. Maybe a little too well.
Ruby 5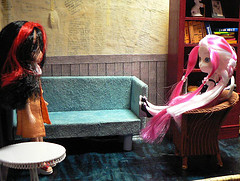 Ruby: I think he's scary, too. Does he get angry very easily? Kitty: Scary? I guess he could seem that way, but I cannot imagine any reason why he would get angry at you. He's only ever lost his temper once with me and I've given him more than enough reasons. Ask Max, I'm sure he can give you a full account.
Ruby 6
Ruby: I'm sorry, I didn't mean to disturb. I'll go away. Chef: No need. You can be here, if you want. Ruby: I thought you didn't speak English. Chef: It's a secret. Don't tell anyone.
Ruby 7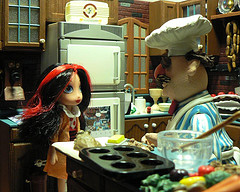 Ruby: If it's a secret, why are you telling me? Chef: You look like you're good at keeping secrets. And it would be nice to talk with someone. Let me fix you something to eat and then you can tell me what's wrong. Ruby: Does it show that clearly? Chef: Yes, it does. At least, I can see it, I'm not sure about the others.
Ruby 8
Riddick: That new girl, Ruby. She's a really timid one. Kitty: You noticed it too? I'm getting a bit worried, she's so scared of everything. Riddick: Kermit said that she has just moved here. Maybe it's the new environment and people. Kitty: Let's hope that's all it is. Still, it may be a good idea, if you keep an eye on her at least for now. It shouldn't be hard, you spend a lot of time in Kermit's office anyway.
Ruby 9
Riddick: The only problem is, I think she's afraid of me. She looks like she's going to run away any second, when I'm in the same room. And Toby got her terrified. Kitty: Yes, she told me about Toby. How could you let him free like that? Didn't you remember her? Riddick: I have had a lot on my mind lately. I know, it's no excuse.
Ruby 10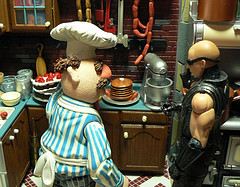 Riddick: You have managed to talk with her? Do you have any idea why she's so scared? Chef: Sorry, I promised I won't tell anything to anyone and that includes you. Riddick: I understand. Could you ask her to come see me? It's obvious there's something and I'd rather know about it before anything happens. Chef: What do you mean? Riddick: I'm not sure myself and that's why I want to know.
Ruby 11
Chef: I can try to talk to her, but she seems to be scared of you more than anything else here. Riddick: Am I really that scary? Kitty has never been scared of me. In fact, sometimes I feel it's the other way round. Chef: Kitty is different. You know that.
Ruby 12
Riddick: Thanks for coming. Kitty said we could talk here, so no one will bother us. Ruby: Have I done something wrong? Riddick: Not that I know of. No, I just want to talk with you. - Will you tell me what's wrong? Ruby: Nothing. Riddick: Come on, I'm not blind and I'm not the only one who has noticed it. Tell me and maybe I can help. Solving problems is part of my job here. As is being aware of what's going on.
Ruby 13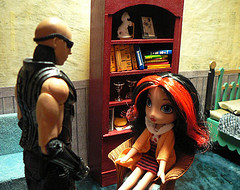 Riddick: What is it? I mean, in addition to the fact that you're still a minor? Ruby: How did you know? Please don't tell anyone. Riddick: From experience. I can always spot a runaway. Don't worry, I haven't told anyone, and I won't. But you should tell me. It will stay between you and me. Ruby: I didn't want to be beaten anymore.
Ruby 14
Riddick: I see. Why are you still so scared? You got away. Ruby: He could come after me. And then there's the police. Riddick: They can't do anything once you're 18. When is that? Ruby: Soon. Riddick: And who... Ruby: Please can I go now?
Ruby 15
Riddick: We talked, although I couldn't get much out of her. Still, I got the general idea. Chef: Are you going to do something about it? I would if I could, but it's not something I would know how to handle. Riddick: Leave it to me. You just try to make her stay here and not run away again. I'm glad there's someone she's talking to.
Ruby 16
Kitty: I know it's none of my business, but what did you and Riddick talk about? Ruby: A problem. Please don't ask more, I can't tell. Kitty: Problem? He's good at solving those. I mean, when they're someone else's, with his own he's quite hopeless.
Ruby 17
Ruby: Why aren't you two together? The way you talk about him... Kitty: That's a long story and not suitable for someone as young as you are. Ruby: What do you mean? Kitty: I know you're not 20 like you say. Probably not even 18. Don't worry, I won't tell anyone. Is that why you're so scared all the time?
Ruby 18
Ruby: I don't want to talk about it. Kitty: It's all right. I'm just curious, but if I ask something you don't want to answer, just say so. I won't mind. Ruby: Really? Kitty: Sure. We all got our secrets.
Ruby 19
Chef: I guess you know that Wendy is a detective. You could talk to her about the situation, but that would mean making it official. She would know what options are available. Although Riddick also knows about them, even about the less legal ones, I think. Ruby: I can't talk to Wendy. Not yet, anyway. Maybe later.