Fantasy Villa Stories
The House
The House 1
Maria: The cafe will be downstairs. People can either stay inside or come out here, if the weather is good. Upstairs will be a reading room. Vladi: I don't like this at all. Maria: Vladi, darling, I know how you feel about capitalism and free enterprise, but we must pay the bills.
The House 2
Maria: What if I promise that as soon as you can figure out a way to earn a living according to your political ideals, I will close the business? Vladi: This is one of your tricks. I know it's a trick, but I can't see how. Maria: No tricks, I promise. You just find a way and I'll do what you want.
The House 3
Maria: Isn't this a lovely room? Vladi: I guess so. Maria: Don't be so grumpy. It will be fun. I'll have to hire an assistant, of course. I don't expect you to work here. Vladi: Assistants cost money. Maria: Yes, they do, but they also create revenue. With an assistant, I can keep the place open for longer hours.
The House 4
Maria: This will be the reading room. Would you like to pick some of the books? There isn't that much room, so I was thinking of rotating them. That will keep people coming back. Vladi: Well, sure. At least I can ensure there's something of some worth. Maria: I was thinking maybe some classics and then some modern literature. We could even get some second hand paperbacks and keep them here for some time and then sell them. It won't make much profit, but it won't be much trouble either.
The House 5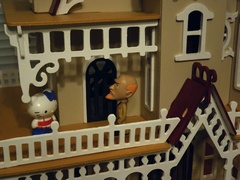 Maria: Let's just hope we'll get nice weather. There's so much more room in here and in the veranda. Vladi: Why did you choose this place? I'm sure there would have been modern business premises available. Maria: I knew you'd get interested. You're a businessman at heart, you're just in denial. Vladi: Don't start that again. It was a purely logical question. Maria: Rent for modern premises is much too high. Besides, this is so romantic.
The House 6
Maria: This is the last room. I'm not sure yet what to put in here. Vladi: You could make it a study and then people could rent it on hourly basis... Maria: What a wonderful idea! See, you are a businessman. Vladi: Could you forget that? It's only logical. This is the most quiet place in the building, so it's perfect for a study. - Is there anything else I should know about the house? Maria: Let's go downstairs.
The House 7
Vladi: So, what is it you don't want to tell me? Maria: Well, you see, there's this traveling agency that arranges tours of haunted houses. This is one stop on their tour. Vladi: Haunted houses? You can't be serious. Maria: Of course I am. Just think of the amount of customers they will bring in. Vladi: And what happened in here to cause this alleged haunting? Maria: The usual, madness and murder. You don't even believe in ghosts, so why worry?