Oddfellows
Now, tell me. What makes you think you're a werewolf?
No, I've never heard of "Texas Chainsaw Massacre"
Beethoven and Mrs. Beethoven
Mrs Beethoven: Ludwig! Beethoven: What? Mrs Beethoven: Have you seen the sugar bowl? Beethoven: No, I haven't seen the bloody sugar bowl. Mrs Beethoven: You know ... the sugar bowl. Beethoven: Sod the sugar bowl... I'm trying to finish this stinking tune! It's driving me spare ... so shut up!
(In case you don't get this, it's a sketch from Monty Python.)
Siegmund Freud a.k.a Siegfried
Woman, what are you doing to my masterpiece?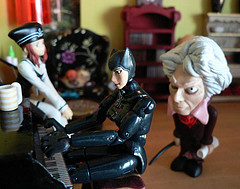 Vladimir
Vladimir: I was expecting a larger audience. Well, I guess two is better than nothing. - So, comrades, the first thing to do is to get rid of all the bloodsuckers... Max: I heard that.