Mez-Itz
Homicidal Anonymous
- Hi, my name is Freddy and I'm a serial killer.
Aren't you supposed to take off your shoes first?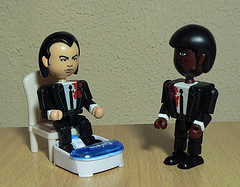 Audition
- We can also sing 'To the morgue' and 'Six feet under'. - No, no, no. Nice choreography guys, but you'll scare everybody to death. Next!
Audition (Edward)
- You're the best so far, but no, not entertaining enough. Next!
Tools of the trade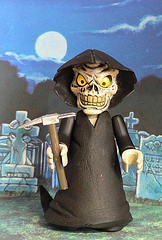 - I really need a scythe. This just isn't the same thing.
A mushroom! I wonder if it's poisonous.
Spare parts
- Thank you, bear. Just the part I need. - You're welcome. I haven't had much use for it since Scarlet ran away with the pool guy.
You know what your problem is? You're suffering from scythe envy.
Frankie and Eddie
Frankie: You look so much better than me. Eddie: Stop whining, at least you've got hands.
Doctor Dedwin's Plastic Surgery
- We fix even the hopeless cases.
Shopping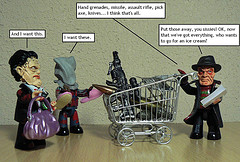 I'm a wolf in sheep's clothing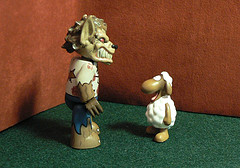 - Honestly I am. My zipper just got stuck.
Monsters
Although mother had told him over and over again that there are no monsters, Boris always felt a bit anxious when looking out of the window at night.
Clearing some history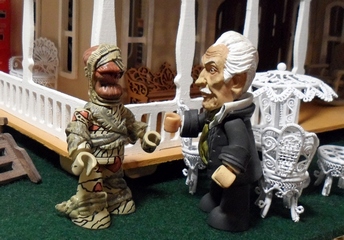 Vincent: So, you were a high priest in your time? Mummy: That is correct. Vincent: That means you knew about stars, right? Mummy: Correct again. Vincent: Could you then explain something that has been bothering me for a long time? Mummy: Sure, if I can. What do you want to know? Vincent: It's about the pyramids and other structures. They seem to be very accurately aligned with certain stars and we have all sorts of theories about that. Can you tell me the real reason? Mummy: Sure. There's really nothing to it. You see, we were building structures that were planned to stand long after we were gone. We knew others would come after us and we thought it would be a good joke to build the pyramids as if the stars had something to do with them. I'm glad to hear we succeeded. Vincent: What? Mummy: I'd love to hear about the theories you've come up with. Just be careful, I'm not sure my current body can take too much laughing.