Living Dead Dolls mini figurines
Living Dead Dolls collectible 2-inch figures
When I ordered these, I hoped to get a Schizo, so imagine my surprise when I actually got two. That's not very likely, considering that the chance of getting one is about 1 in 7. These figures are just the right size for the Fantasy Villa, but the knife behind his back really limits Schizo's usability in the stories as he isn't that sort of character (unless I can come up with a brilliant explanation for this behavior). Still, as long as he's shown from the front, he'll fit in.
This is ridiculous
A few weeks later, I ordered two more Living Dead mini figurines as I wanted to have some of the others. Imagine my surprise when the first box I opened contained the variant Schitzo. At least the second one was different, and I'm not disappointed about getting the rare (6%) variant.
Grace of the Grave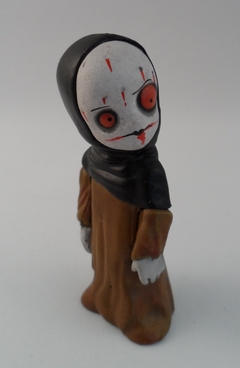 Three's a crowd
But who's the extra?
Those three are up to no good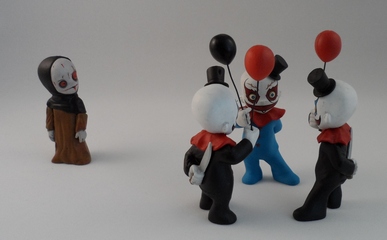 Schizo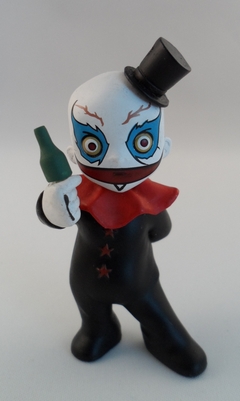 I made a bottle for Schizo using a mould I made for casting a tray with glasses and a bottle. I filled just the part that formed the upper part of the bottle and stuck a piece of metal wire into it. When the resin had hardened, I cut the wire to suitable length.
Beware of clowns
Schizo: Want a balloon? Rabbid: Umm... No. Schizo: Why not? Everybody likes balloons. Rabbid: I don't trust you.