Other miniature scenes
Barbie accompanied by Catwoman
The Swedish Chef saw a Robert Palmer video and decided to hire some assistants
But officer, this is a helmet!
The theory of beauty according to Blythe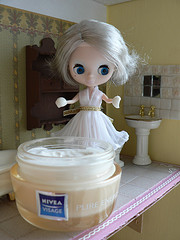 "The more you apply, the prettier you get."
Black and white, his favorite colors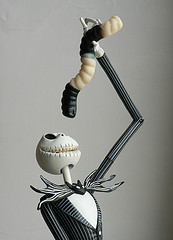 Blind date
- You're a frog. - Yes, that's quite right. - I thought you would be French.
Blind date, part 2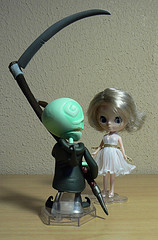 - Nice scythe. Would you mind leaving that in the cloakroom?
Thor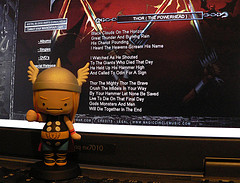 - Look, I've got my own song and everything. Oh, it says I should have a hammer... If I had a hammer... Sorry, wrong song, don't know where that came from. OK, all together now: Thor, the mighty! Thor, the brave!
I surrender, but you're in the wrong comic
The downside of being a vampire
- You know, I thought being a vampire would be cool. Nobody told me I would have to sleep in a closed box with dirty soil in it. Do you have any idea what that does to my dress?
Miniature Cooking magazine
What are you waiting for? Feed us!
Hey, you! Yeah, you! You ugly mutt!
It's a killer whale! Run for your lives!!!
Finfin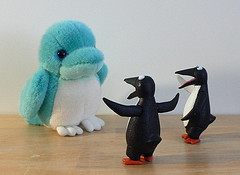 Penguin no. 1: Wow, you're so big. Penguin no. 2: And so... you know... turqoise. Penguin no. 1: What sort of a penguin are you anyway? Penguin no. 2: I know! You're not a real penguin at all. Impostor! Finfin: Squeek!
No pets without asking me first!
The penguin
- We'll have to watch the telly then. - Yes. - Well, what's on the television then? - It looks like a penguin.
Robot Rabbit at a game arcade
Eve
Disguise
- Are you sure I will pass as a bunny? My ears are all wrong.
Alice and the Caterpillar
Alice: You're not following the script. You're supposed to sit on a mushroom and smoke. And what's with that haircut? Caterpillar: Do you have any idea how hard it is to find mushrooms this time of the year? And smoking kills. As for my hair... yours isn't that much better. Alice: But it's not the same story! Caterpillar: So what? At least I am here. And there are two sides in this plant. Could we continue?
Even vampires crave donuts
The Cats of Ulthar
Betty Boop
Blind date 1
Cheshire Cat: I'm sorry, the dating agency must have made a mistake. We feline guys only date felines. Piggy: Whatever. Who'd want to date a guy in striped pink pajamas anyway?
Blind date 2
Bad Piggy: What's the problem? I know you like green guys and I'm even your kind. Piggy: You don't have arms and legs! That's the problem.