Good Job
Good Job 1
Blythe: I'm really worried about this. What if we get caught? Pinky: You should have thought about that a bit earlier. Stop whining. We do what must be done and then you have some explaining to do. Steve: Try not to go over the limit. There's bound to be cops around at this time.
Good Job 2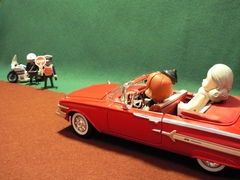 Pinky: Cops! What now? Steve: Take it easy. Nice and relaxed. Be polite. Remember, we haven't done anything. Blythe: They'll know! I'm sure they'll know! Steve: Shut up! Sit still and keep your mouth shut.
Good Job 3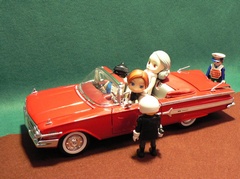 Officer 1: Good morning. Just a routine check. Your driver's license and registration please. Pinky: Yes, of course. Steve, would you get the registration papers? Steve: Sure. Just a moment. Officer 2: Your trunk isn't shut properly. It could open while you're driving. Let me help you with that. Pinky: No! No, it's quite all right...
Good Job 4
Officer 2: What the h...? Jack!
Good Job 5
Officer 1: Out of the car!
Good Job 6
Pinky: Certainly. Officer 1: What...? Steve: Step on it! Blythe: I knew it! I knew this would happen! Steve: Shut up! This is all your fault!
Good Job 7
Officer 2: You idiot! How many times do I have to tell you? Step away from the car as soon as you suspect anything. Officer 1: Shut up and shoot! Officer 2: It's no use. You wouldn't hit the barn door from 10 feet.
Good Job 8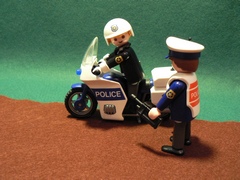 Officer 1: I'm going after them! Call for backup. Officer 2: Try not to get yourself killed. (thinking: Although maybe I could then get a partner who actually knows what he's doing.)
Good Job 9
Pinky: Now what? Steve: Shut up and drive. I need to think. Blythe: We're going much too fast! Pinky: Shut up! If you say another word, you'll end up in the same place as your husband. - Why the hell did you have to kill him? You could have divorced him like normal people do. Blythe: I'm catholic.
Good Job 10
Blythe: We're really going much too fast! Pinky: Didn't I tell you to shut up? Steve: Look where you're driving! Watch out!
Good Job 11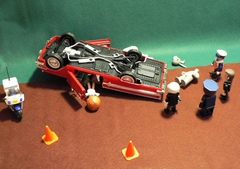 Wolf: What a mess! Which one was in the trunk? Officer 2: The headless one. Wolf: Was he already dead? Officer 2: Considering his head was cut off, I'd say yes. Wolf: All right. Looks like a clear case. Let's wait for the ambulances and such, although all that's left here is the cleanup. - How about the other car?
Good Job 12
Officer 1: Nothing to be done here either. Wolf: Poor bastard. Although I suspect he was speeding too. - Oh well, it's one murder cleared right away and the murderer dead, so there won't be trial costs. Not to speak of the costs of keeping her in prison, or him, if it was the guy. - Good job, boys.
Good Job 13
Officer 2: I can't believe this. You screwed up about as badly as you can and we have five bodies, and he says it's good job. Officer 1: Why are you complaining? Everything is fine. If we're lucky, we may even get a raise. Officer 2: I'm going to apply for transfer. Officer 1: What for? Officer 2: I'm looking forward to retiring one day. Working with you, that isn't an option.