Page 9
Losing it
Eggzorcist: "Oh, I think I get it now. That guy Hilda knocked out was a midget crook, and then they have these midget policemen to catch them." Damien: "Say one more word about midgets and I'll tell mom that you're losing it again, and she'll lock you into the basement for at least a week."
Confession
Wolf: "Now that Tommy's left, I have something to tell you, and it's not easy. You see, it's not quite true that I am in no way related to anybody involved in this case... It's just that nobody at the station knows about it." Mrs. Hatter: "I don't understand. What do you mean?" Wolf: "Let me explain. My wife left me years ago, and she took two of the kids with her. I've been looking for them for ages and finally tracked them here, in this house." Mrs. Hatter: "You mean Damien and Eggzorcist..." Wolf: "Don't worry, I'm not trying to take them away from you, it's much too late for that, I just wanted to see them and make sure they're OK."
Height issue again
Mrs. Hatter: "Are you quite sure? I mean - don't take this wrong - I would have thought that their father was a bit, well... taller." Wolf: "My wife was tall. She was a model, you know. Before she... but maybe I shouldn't go into that." Mrs. Hatter: "Just tell me. I can see you need to tell someone."
Eavesdropping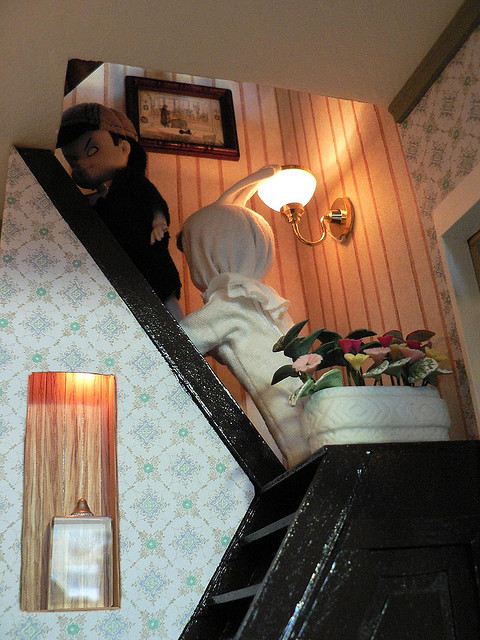 Eggzorcist: "What is he saying?" Damien: "Shh, I want to hear everything."
Ex-wife
Wolf: "As my wife started getting older, there was a lot more competition from all these young girls. Finally she couldn't take the pressure and started to drink. She blamed me for everything that was wrong in her life. Then she left and took the youngest kids with her." Mrs. Hatter: "How awful! Did you manage to find her?" Wolf: "Yes, after a long time. She had always been a bit unstable, but at that time there was nothing I could do for her anymore. The kids had been taken from her, and nobody would tell me where they were. She had told all sorts of lies about me, and I was lucky they didn't take away the older kids as well."
Should we tell?
Mrs. Hatter: "Now that you've found them, what do you want to do? Should we tell them?" Wolf: "I don't know. How do you think they would take it?"
How would they take it?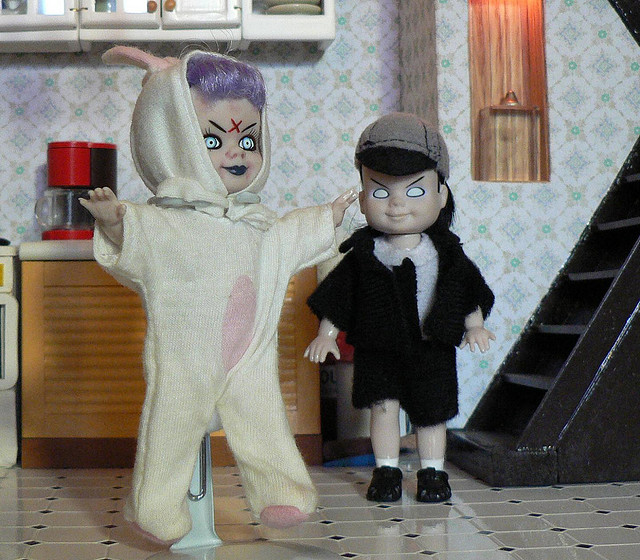 Eggzorcist: "Eeeee, my father's a midget! I'm a half-freak!" Damien: "Ha, newsflash of the day! - Shut up and let me think. You know, this could be a good thing. He's part of the investigation, and maybe he'll feel guilty enough to help us."
So who did it?
Wolf: "The first priority is to solve this mess you are all in. Oh yes, I know all about it. I've been watching this house for some time." Mrs. Hatter: "What do you suggest?" Wolf: "Obviously, we need someone to blame for all the disappearances, or murders, if the bodies turn up. Someone who has a motive and opportunity. Did you know that Tommy knew Ms. Pinky? I saw him visit Ms. Pinky several times very late at night even though he's engaged to Kelly. Maybe we can cook something up from that." Mrs. Hatter: "But surely you need evidence to back it up." Wolf: "That can be arranged." Mrs. Hatter: "I think I can see where they have inherited some of their characteristics from..."
Late that evening
Mrs. Hatter: "Pennywise! You scared me half to death! Where did you come from? I thought you were dead." Pennywise: "Close, but not quite. I need a place to hide for a couple of days." Mrs. Hatter: "You can stay in the basement. Nobody's using it right now." Pennywise: "Thanks. And thanks for not making a fuss." Mrs. Hatter: "It's OK... By the way, would you mind doing me a little favor?"
Murder in mind
Mrs. Hatter: "You have nothing to lose even if they catch you. You'll never get out anyway - legally, I mean - so what's another murder? And I know someone who may be able to get you into a bit more comfortable prison than the last one, should you happen to get caught." Pennywise: "Sure, why not, for old times' sake. But then I'll take the money and get the hell out of here." Mrs. Hatter: "It's a deal."