New Jobs 41
Anika: This is very comfortable, although it doesn't match with the other furniture. Kitty: Who cares? He finally found an armchair big enough for him. Do you have any idea how long he's been looking for that thing? Anika: So, who's Ruby? Kitty: She's a friend. Riddick's been looking after her as her parents are dead. Chase: If you mean that pretty young thing Zeke is dating, I thought Zeke was looking after her. Besides, isn't Riddick supposed to be looking after you, especially now? Kitty: I'm doing fine without him fussing about it, thank you.
New Jobs 42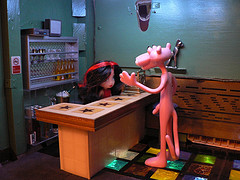 Peter: What do you mean you don't know? You work here, don't you? Ruby: I'm sorry... I... Peter: How did you get this job, if you don't even know the basics? Ruby: Please, if you could just wait a moment...
New Jobs 43
Abby: Is there a problem? Peter: This little idiot here can't do her job. Abby: Calm down. Just tell me what's wrong. Peter: I ordered a Pink Panther, but she doesn't even know what that is. I have never seen such incompetence. Why did you hire this stupid b... Abby: Watch your language.
New Jobs 44
Riddick: Okay, big guy in pink, I think it's time for you to go. Peter: I am not in pink, I am pink. And you should mind your own business. Riddick: When you talk about my friend the way you just did, it is my business. Peter: Do you know who I am? Riddick: Sure, you're an obnoxious pastel-colored twerp who's begging to get beaten, but I don't do requests, so how about you just leave? Peter: You're gonna regret that...
New Jobs 45
Abby: Oh my, I had no idea. Ruby: He's really good. He gets a bit overprotective sometimes, but this time I don't mind. Abby: Ruby, do you understand what Riddick just did? No feline would dare to try that. Peter is notorious for his bad temper and sharp claws. Ruby: Well, it was time for him to get a lesson then, right? Abby: Right. Let's just hope he won't make more trouble later.
New Jobs 46
Linda: Hi, Abby. Did I see correctly? Was that Peter? Abby: Yes, it was. Linda: Impressive. So, who's the big guy? And who's this? Abby: The big guy is Riddick, and this is Ruby, our newest employee. Riddick is her friend. Linda: I see. Well, Ruby, it looks like you've got a very useful friend. - I'm Linda. Care to introduce me to your friend? Abby: Linda, I'm sorry to tell you this, but he's taken. Very much so.
New Jobs 47
Abby: This on is on the house. Riddick: Thanks. Abby: No. Thank you. I've been wanting to see that for a long time. How did you know that he's very sensitive about the color issue? Not to mention being called a twerp. Riddick: Just a lucky guess. Abby: You know, I think there's something we should talk about.
New Jobs 48
Abby: I'll get right to the point. Hagrid and I were talking about you the other day. You see, his head of security is leaving and he said you're his first choice for the job. After what just happened, I understand why. So, are you interested? Riddick: I've already got a job, but I guess there's no harm in listening. - How much would this job pay? Abby: You're not saying no right away? Good. Let me tell you more about it...
New Jobs 49
Riddick: Kitty, I know it's really late, but I want to talk about this right now. Kitty: What is it? Is something wrong? Riddick: No, nothing like that. It's just that I was offered a new job. Kitty: Who? Where? Riddick: Ruby's boss. I would be the head of security. Kitty: So, what's the problem? Hagrid? Riddick: Not really. I just wanted to talk with you about it before I say anything.
New Jobs 50
Kitty: That's really sweet of you, but you know I just want you to be happy. If you want the new job, you should take it. - However, there is one thing I must ask you. Does this have anything to do with the fact that Ruby works there now? Riddick: Kitty... Kitty: I know you. You still feel responsible for her. It's all right. Besides, if she's going to take over all of Hagrid's businesses one day, she'll need someone she can trust. Riddick: Kitty, are you all right?
New Jobs 51
Kitty: Of course I'm all right. How could I not be? We're rich! - Actually, not quite yet, but very soon. Grandma is giving me my inheritance. All of it. Riddick: Why? Kitty: She said she's tired of taking care of it. So, as you see, you can do anything you want. I didn't expect you to retire or anything. You're not that type. - I hope you're not feeling bad about this. I mean the money. Riddick: Why would I feel bad about it? I didn't marry you for your money.