Full Moon 1
Ruby: Abby! Peter: There's no need for that. I had a bad day, but I should not have taken it out on you. Why don't we try again? I'm Peter. What's your name? Ruby: I'm Ruby. Peter: Well, Ruby, I'd like to have a beer. - So, did you figure out the Pink Panther already? Or should I tell you what goes in it? Ruby: I know already. Abby told me.
Full Moon 2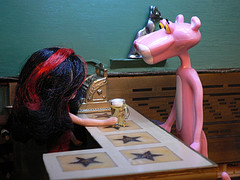 Peter: Who was that guy the other day? I've never met anyone like him. Ruby: He's Riddick. He's our new head of security. Peter: Really? I must say he's in the right business. - He said he's your friend. Boyfriend? Ruby: No, just a friend. My boyfriend's even scarier when he wants to. Peter: I find that hard to believe. You're not the type to date bad guys. Ruby: He's not bad. He's just... different.
Full Moon 3
Riddick: You again. Ruby: Riddick, it's all right. He's been very nice. Peter: Mr. Riddick... I can assure you I'm not here to cause any trouble. Riddick: It's just Riddick. And you're welcome here as long as you can behave.
Full Moon 4
Riddick: Did he apologize? Ruby: Sort of. He asked if we could start all over again. Riddick: I guess that's good enough. - Did you hear that Chef is back? Ruby: Is he? How wonderful! How did he like the old home country? Riddick: He said it was nice for a while, but it wasn't home anymore. Ruby: I knew he'd change his mind. Is Kermit taking him back?
Full Moon 5
Riddick: He's not going back. He wants to have a job where he can be himself, not just the crazy foreigner who doesn't speak English. Ruby: Is he good enough to get a job in a proper restaurant? Riddick: I don't know. I guess it depends on your definition of proper. Anyway, I told him you're working here now and he promised to come and see you. Ruby: That will be nice. There's so much to talk about. Everything that's been going on...
Full Moon 6
Riddick: I warned him about that. Ruby: Warned him? What do you mean? Riddick: That you're probably going to talk nonstop. Ruby: I'm not that bad, am I? Riddick: Just teasing. But seriously, you'll have all the time in the world, so you shouldn't wear him out the first time you see him. - I'll have to go and check the other bars now, but I won't be long.
Full Moon 7
Val: Well, well, I should have guessed. Ruby: What are you doing here? Val: Another gig at the theater. They told me Riddick doesn't work there anymore and that I'd find him in here. Are you still trying to say you're not running after him? Ruby: Why would I run after him? I've got a boyfriend. - Are you going to order something or are you just wasting my time? Val: Oh my, not so timid anymore. Good for you. I'll have a gin and tonic.
Full Moon 8
Val: So, where is he? Ruby: On his rounds. He'll be back later. Val: Is he still married to that cat? I heard she left too. Ruby: They are very happy together. Kitty's staying at home now. With the kind of money she inherited, she'll never need to work again, unless she wants to, but I think she'll probably want to stay at home and take care of Bea and the baby. Val: Baby?
Full Moon 9
Ruby: Yes, they're going to have a baby. I've never seen Riddick so happy. He's really looking forward to becoming father again. He sort of missed the first occasion. Val: He'll soon get fed up with that. What's so great about babies? All they do is eat, sleep and cry. Ruby: Tell me, have you always been like that? Val: Like what? Ruby: I guess you have, otherwise you'd understand the question. Val: You've been talking with Adel. - Well, I have to go now. Tell Riddick I was here. Ruby: I will, although I don't think he'll care.
Full Moon 10
Schizo: Hi, Ruby. Who was the sourpuss? Ruby: Do you mean Val? Haven't you met her? She performs at the theater occasionally. She was looking for Riddick. Schizo: Oh, that one. No, I haven't met her, but Max has told me about her. I had no idea she looks that good. Well, except for the long face. Ruby: Does she? I guess you could say so, but it doesn't change the fact that she's nasty. Schizo: All the more interesting. Don't get me wrong, I like nice girls as friends, but there's a lot of fun to be had with bad girls.
Full Moon 11
Ruby: Um... what would you like to have? Schizo: I'm sorry. I didn't mean to make you feel uncomfortable. I'll have a beer. - So, I was visiting Max, but he had to get to work and I thought I could come and see you. How do you like working here? What's your boss like? Ruby: Abby is very nice and I'm starting to get the hang of it. Of course, some people are a bit... Schizo: Rude? Obnoxious? So full of themselves they could choke? You don't need to tell me that, I know felines. Just don't pay any attention to it.
Full Moon 12
Schizo: How's that boyfriend of yours? Still running around in the woods in his spare time? Ruby: Um... yes. I don't quite understand it... Schizo: That's the way they are. You either accept it or you dump him. Don't even think you can change him. I doubt he could change even if he wanted to.
Full Moon 13
Schizo: Well, hello there. You must be Abby. Ruby was just telling me how much she likes working here. Abby: Have I seen you somewhere? Schizo: It's possible. My name is Schizo and I'm a performer. Of course you may confuse me with someone else of my kind. People often do. Abby: No, I think it was you. You did that dove trick with bats and then the bats flew around and some women started screaming. Schizo: Sounds familiar.
Full Moon 14
Schizo: So, did you like the performance? I take it you weren't one of the screamers. Abby: It takes a lot more than a couple of bats to scare me. The performance was... different. Schizo: I take that as a compliment. I always strive to be different. No point doing the same sh... stuff everyone else is doing. Abby: Ruby, I need to go out for half an hour. Can you cope on your own? Ruby: Sure. Riddick should be back any minute.
Full Moon 15
Schizo: Is she married? Ruby: Why do you ask that? - You can't be serious... Schizo: Why not? I've always been particularly fond of tall blondes. Ruby: I don't think she would be interested. She's a widow and says she's never getting married again. Schizo: Who said anything about marriage? - I'd love to stay a little longer, but I'm expected elsewhere. I'll just drink this and then I need to go.
Full Moon 16
Ruby: Was everything all right? Riddick: A couple of minor disturbances. Nothing they couldn't handle. Ruby: That's good. - Val was here. Riddick: Val? What did she want? Ruby: You, I suppose. - Don't look at me like that, it's true and you know it. Riddick: I know. I'm glad I missed her. Ruby: There's someone else you didn't miss. She's at the door right now. At least, I think I know who that is and what she wants.
Full Moon 17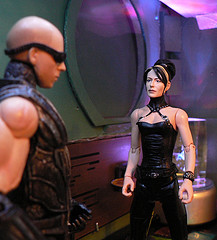 Annie: Riddick! I heard you're working here nowadays. Riddick: Damn, what is it tonight? Is it full moon or something? All the crazy women at large at the same time... Annie: I hope you're not talking about me. Riddick: What do you want? Annie: A drink would be nice. I think I'll have a Bloody Mary. Riddick: Ruby, make her one. The kind Max drinks. Ruby: Are you quite sure? Oh, I get it. Right away.
Full Moon 18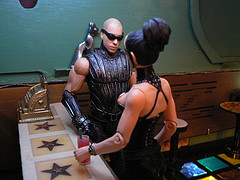 Annie: So, have you thought about getting back to business? This job can't be very lucrative. Riddick: This? This isn't a job, this is a hobby. Annie: What are you talking about? Riddick: I could retire tomorrow if I wanted to, but you know me, I need to keep myself busy. Annie, I don't need any more money and I don't need that kind of excitement either. There's nothing you can offer that is tempting enough. Annie: What do you mean you don't need the money? Riddick: Don't you know? I've got a rich wife.
Full Moon 19
Riddick: Aren't you going to drink that?
Full Moon 20
Annie: What... *cough* oh dear god... *cough* What the hell was in that? Riddick: It's our specialty, especially for vampires and for women who don't know when to give up. Annie: You... Riddick: The drink's on me. You should leave now.