Losing Control 1
Kitty: What brings you here? - What's going on? Haircut, new dress... Who's the guy? Chase: Why do you assume there has to be a guy? Can't I just celebrate my new position as an indepently wealthy woman with no need to even consider working ever again? Kitty: I know you. It's a guy. Who is it? Anyone I know? Chase: He says you do. His name is Chester. He asked me out for a date.
Losing Control 2
Kitty: Chester! You... you're going out with Chester? Chase: You say that like it's some sort of a miracle. He's... interesting. Kitty: And he knows what you've done. Chase: Yes. He said he's willing to give me the benefit of doubt.
Losing Control 3
Chase: So, where is everybody? Kitty: Riddick is helping Ruby to move into her new home and Bea went with him. Mary's going there too after school. I guess the idea was to give me some peace and quiet. Chase: And then I come and ruin it all. How typical of me. Kitty: Don't start that. Can't we just sit down and talk like normal people? Chase: I'm sorry. I'm finding it really hard to be normal. - So, he's with Ruby? Is Bea supposed to be a chaperone? Kitty: Chase...
Losing Control 4
Ruby: Everything is now in place. Thanks for helping me with this. Bea: Ruby, is this your very own house? Ruby: No, I'm just a tenant, but I can live here as long as I want to. The owner said he's been trying to sell the house, but as nobody is interested, he decided to keep it as long as I'm here to pay the rent. Riddick: It shouldn't be very hard to sell this. This is a good area and it's a nice house. Ruby: It's because of the ghosts.
Losing Control 5
Bea: Ghosts? Ruby: Don't worry Bea. I'm sure there are no ghosts. People just think so and that's why they don't want to buy this. Bea: I want to see a ghost. Ruby: Really? Aren't you afraid? Bea: No. Ghosts are transparent and they go through walls and stuff, but that's all they do. Ruby: There's always poltergeist. Riddick: Ruby...
Losing Control 6
Mary: Hi, Ruby. I'm sorry I couldn't come earlier. Did you already get everything in place? That was quick. Riddick: I need to get to work now. Mary, you and Bea can stay for a couple of hours, but you should go home before it gets dark. Mary: All right, we will.
Losing Control 7
Bea: Mary, did you know about the ghosts? Mary: I heard Max thinks there are ghosts here, but I suppose he just has a vivid imagination. Bea: I want to see a ghost. Ruby: I'll let you know, if I see one. Bea: Do you want to hear what happened today at school? We met a guy called Mike... Mary: A guy? I bet this is going to be interesting. Bea: Mary... - I told you about Daniel, didn't I? So, anyway, Daniel was mean to Mike and was going to beat him, but Mike threw him to the ground. Just like that.
Losing Control 8
Mary: Sounds like Daniel got what he deserved. Who is this Mike? Bea: He's new. He just got transferred from another school. Mary: I bet today wasn't the first time he was throwing somebody around. Bea: He said that's why he got transferred. You know, to a place where he wouldn't be able to throw other kids around. Ruby: Well, sounds like the plan failed. Bea: Ruby, can I go upstairs? I really love that room. Ruby: Sure, go ahead.
Losing Control 9
Mary: It was nice of you to let her come here. Ruby: I like her. She's like you and me, you know. Mary: I guess so. Except she's a bit luckier than us. Her mom will come back one day. I hope. Ruby: Hope? What... Oh, I see. Yes, I guess you're right. You'd think being locked up is the safest place you can be. Mary: Depends on who you get locked up with.
Losing Control 10
Mary: You know, if you're going to do any reading here, you need better lighting. Ruby: I guess so, but this will do for now. At least there's enough light to not bump into any furniture. Mary: Speaking of furniture, where did these come from? You had so little in your room. Ruby: From a second hand store. Mary: So your uncle really sold everything? Ruby: Yes. I didn't want any of it. I prefer getting somebody else's used furniture.
Losing Control 11
Next day: Orlock: So, where are Kitty and Mary? Bea: Kitty had to go to see a doctor and Mary has a training session with Mr. Splinter. Orlock: And Riddick's at work downstairs. Well, I'm happy he brought you here. I don't have that many visitors. Bea: Why? Don't you have friends? Orlock: Of course I do, but most of them are a bit too big to be comfortable here. It's easier to meet them elsewhere.
Losing Control 12
Mrs. Splinter: Oh, I'm sorry to interrupt. Orlock: It's all right. Bea, I'm sure you remember Mrs. Splinter. Bea: I remember. How do you do? - Mike? What are you doing here? Mrs. Splinter: Have you two met? Mike: At school. Bea and her friends came to see if I needed help when one of the bigger felines was being very mean. Mrs. Splinter: I see.
Losing Control 13
Orlock: Well, did you need any help? Bea: He didn't. He surprised Daniel totally. It was such fun. Mrs. Splinter: Mike? What did you do? Mike: Um, well... you see, mom, I... I had to throw him a little. Mrs. Splinter: A little. I see. What have I said about that? Bea: Please don't be angry. Daniel deserved it. He's always bullying others.
Losing Control 14
Chef: The stove looks all right, but the shelves are a bit empty. Where are all the pots and pans? Ruby: That's all I've got. I'm not much of a cook, I'm afraid. Chef: We'll soon fix that. I brought you a present.
Losing Control 15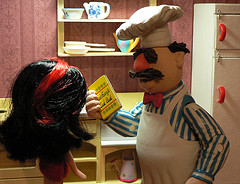 Ruby: A cook book? I don't understand anything about those. Chef: Don't worry, you will once we're done. Ruby: What do you mean? Chef: You said you want to learn to take care of yourself. I may not know much about anything else, but I can teach you how to cook.
Losing Control 16
Chef: We'll need to go shopping first. Or is it so empty here because you can't afford to buy what you need? I can help you with that. You can pay me back later. Ruby: Oh no, it's not about money. I have some, you know, from my father's things that my uncle sold. Uncle Hagrid said I should use some of it for getting what I need here. Chef: All right then. I know a place where you can get quality stuff at reasonable prices. We'll get just the essentials and you can buy the rest when you need it.
Losing Control 17
Ruby: Why are you doing this? There's no need for you to teach me. Chef: I know. I just want to help and this is one thing I can do for you. Ruby: All right. I was just thinking... well, you know, Riddick said I shouldn't wear you out... Chef: You won't. Tomorrow we'll go shopping and you can tell me all about what's been going on while I've been away. Now I must go. I've got a couple of job interviews. Ruby: Good luck.
Losing Control 18
Zeke: Who was the big guy? He was here a long time. Ruby: Are you spying on me? Zeke: What? No, no... I just saw him coming here and I didn't want to disturb, so I waited. Ruby: All right, I guess. He's Chef. He's the one I talked to before I could talk to Riddick. Zeke: I see. Why haven't I seen him before? Ruby: He was out of the country for a long time. He's a foreigner and he went home. Only, it wasn't a home anymore and so he came back. I'm so happy he did.
Losing Control 19
Zeke: What do you two talk about? You can't have much in common. Ruby: We talk about all kinds of things. He's a good listener. And he's teaching me to cook. See, he gave me a present. Zeke: Oh. Ruby: What's that supposed to mean? Zeke: Nothing. Ruby: You don't think I can learn to cook, do you? Zeke: I'm sure you can, but I will still love you even if you can't.
Losing Control 20
Ruby: Zeke, about what you said downstairs... Why are you always like that? Zeke: Like what? I don't understand. Ruby: You don't believe I can learn to do things, but I can and I will. Zeke: You don't need to. I will take care of you. Ruby: What if I don't want that? What if I want to take care of myself? Zeke: Ruby, don't get all upset. I love you and I want to take care of you. Ruby: What about what I want? Zeke: What do you mean?