Losing Control 21
Ruby: Don't you understand why I took the new job? I'm going to take uncle Hagrid's place some day, if everything goes as planned. I'm never going to just stay at home waiting for you while you either work or run around in the woods doing who knows what. Zeke: You know I have to do that. Ruby: Yes, you have explained that to me and I accept it. What you need to understand is that learning to take care of myself is something I have to do. Zeke: This is all your uncle's doing. You should have said no to him. Ruby: Oh really? At least he listened to me.
Losing Control 22
Zeke: You have too many people telling you what to do. Your uncle, Riddick, and now this Chef. Can't you see they are all trying to run your life for you? - I think you shouldn't see them anymore. And you don't need that job. Just let me take care of you. Ruby: What!? So you could run my life for me? Who do you think you are? What gives you the right to say something like that? Get out! Zeke: You don't mean that. Ruby: Yes, I do! Get out! Get out now!
Losing Control 23
Zeke: Shut up! Ruby: Zeke... what are you doing? You're scaring me. Zeke: Just shut up! Ruby: Zeke... calm down. Please. - Are you going to hurt me? Zeke: What...?
Losing Control 24
Zeke: No... Ruby, no, of course not. - I... I'm sorry. This hasn't happened in a long time... I'm sorry. Ruby: Please just go now. Zeke: I'm sorry.
Losing Control 25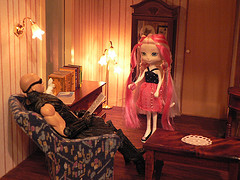 Kitty: Riddick... Riddick: Is something wrong? Kitty: It's Ruby. She just called. She was hysterical. I didn't understand half of what she was saying, but it seems that she had a fight with Zeke. You better go there. Right away. Riddick: Fight? What did he do? Kitty: I don't know, but I don't think she's physically hurt, just really upset.
Losing Control 26
Riddick: I'll go there. Will you be all right? Kitty: Don't worry about me, I'm fine. Go and see how Ruby is. Riddick: All right. Will you try to get hold of Sleepy? Kitty: Sure. If it was really bad, Zeke is probably out in the woods, but Sleepy can take care of that. - Riddick, get someone to stay with her or bring her here. Don't leave her alone.
Losing Control 27
Riddick: Is this what you mean when you say he lost control? Just knocking over some furniture? Ruby: No. He changed. And he shouted at me. Riddick: Did he hurt you? Ruby: No, but he was scary. I wasn't scared of that changing thing before, but now... Riddick: I see. - Do you think he'll come back? Kitty said that you should come and stay with us or get someone to come here to stay with you tonight. Ruby: He won't come back. And I'm not going anywhere. This is my home now.
Losing Control 28
Ruby: He said... he said I'm letting you and uncle Hagrid run my life. Riddick: Do you think so? Ruby: No. Uncle Hagrid takes care of me. And you're my friend. Riddick: That's good. I never wanted to run your life, although I guess I did cross the line a couple of times and I am sorry about that. Ruby: I know you just want what's best for me. I'm not so sure about Zeke. Riddick: What are you going to do? About him, I mean. Ruby: I don't know. I need to think. I love him, but he was so scary.
Losing Control 29
Riddick: Do you want me to do something? Ruby: No! Don't go after him and don't tell uncle Hagrid. I don't know why I called... I was just so upset. Is Kitty mad at me for calling so late? Riddick: Of course you were upset, and Kitty isn't mad at you. She was worried. Ruby: I'm sorry. I shouldn't have gotten her worried, it's not good in her condition. Riddick: She's fine. You'd need a lot more than little worrying to do any harm. Still, I better go home. But first we need to get someone to come over, if you really don't want to come and stay with us tonight. I'm not going to leave you alone here. - I'll call Adel.
Losing Control 30
Ruby: I'm sorry to bother you, but Riddick wouldn't let me stay here alone. Adel: It's quite all right. Sleepy called me to tell me that he's going after Zeke and it might take some time, and I was just thinking of calling you when Riddick called. Ruby: I guess everybody's going to know about it. Adel: Nobody else needs to know anything about it, unless you want to tell someone else. I'm thinking about Max. Ruby: He doesn't need to know.
Losing Control 31
Adel: Will you tell me what it was all about? Ruby: He's got these ideas about how our life should be. Adel: And you disagree? I see. I hope you know that they are very traditional. Women stay at home and take care of the children while men earn a living for the family and all that. Ruby: I don't understand how he could think I'd agree to something like that. Adel: Wishful thinking, my dear. Ruby: Don't call me "my dear," I'm not a child. Adel: Sorry. It's just that you really are, from my point of view, I mean.
Losing Control 32
Adel: Don't think about him anymore tonight. You'll feel better tomorrow and then you can try to figure out what you want to do. Ruby: Are you ever scared of Sleepy? What he might do in his other form? Adel: No, but then again, he's a lot older than Zeke and wouldn't lose control, if I told him to go and never come back. You see, he knows we play by my rules and he accepts that. Ruby: How do you do that? Adel: By making the rules clear right from the beginning. If the guy doesn't accept them, he can take a hike. Besides, he's been with one of my kind before.
Losing Control 33
Adel: You should try to sleep. I'll be in the living room. Ruby: Aren't you going to sleep? Adel: I can sleep in the chair there. I'm used to that sort of thing. Ruby: It's so uncomfortable. You can sleep here. The bed is big enough for both of us. Adel: Are you sure you're all right with that? Ruby: Of course, why wouldn't I be? Adel: Well, you see... my kind... we... Oh, forget it. It's nothing. Thank you for the offer, and yes, of course I prefer sleeping in the bed.
Losing Control 34
Kitty: How is she? Riddick: Upset, but otherwise all right. - I knew that guy was trouble. Kitty: What did he do? Riddick: Lost control, changed shape, shouted and knocked some furniture over, and then ran away. Kitty: Why would he do something like that? What were they arguing about? Riddick: About who's trying to run Ruby's life. It seems he's getting a bit possessive. Kitty: That's not good. Not good at all. She just got away from one man like that, she doesn't need another one in her life.
Losing Control 35
Riddick: I agree, but I couldn't say it to her. Zeke accused me of trying to run Ruby's life, and it's not an entirely false accusation. Kitty: Don't worry about that now. I'm sure she knows you only want to help. - So, she didn't want to come here? Riddick: No, but Adel is there with her. Sleepy had called her and she was just about to call Ruby when I called. Kitty: That's all right then. I may not like all the things Adel does, but she cares about Ruby and she knows quite a lot about Zeke's kind.
Losing Control 36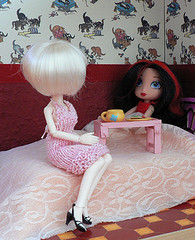 Next morning: Adel: Feeling better? Ruby: A little. Adel: I brought you some breakfast. Ruby: Where did the tray come from? Adel: It's a present for you. Sleepy brought it. He's downstairs having a cup of coffee.
Losing Control 37
Ruby: You know, about yesterday... It all seems like a bad dream. Adel: But it wasn't a dream. I hate telling you this, but that guy could be dangerous. I know he told you he wouldn't hurt you, but can you be sure? Ruby: Yesterday he reminded me of my dad. I hated him for that. Adel: You've never spoken about your parents. Ruby: They're dead. Mom killed herself a long time ago and dad was shot by a robber. Adel: I'm sorry.
Losing Control 38
Ruby: For a long time I hated mom. She took the easy way out and left me with a monster. Adel: It's not necessarily the easy way. What do you mean by "monster?" Ruby: Dad used to beat me. I could never do anything right. Adel: I've met a few of those. But you're all right now. Your uncle is a very decent guy, if you exclude some of his business dealings, and Riddick is looking after you too. Ruby: Zeke said I shouldn't see them anymore. That I should let him take care of me. Adel: Getting a bit possessive, is he? I'd be very careful, if I were you. That sort of thing usually just gets worse over time.
Losing Control 39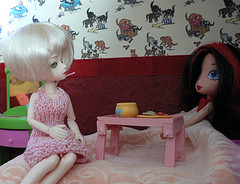 Ruby: Adel... Why are you doing this? You didn't need to stay. Adel: That's what friends are for. Ruby: I wish my mother had been like you. Then she would still be here and everything would be all right. Adel: Everything is going to be all right. Sleepy and I will see to that. - He'd like to talk with you. Can I go and ask him to come up here? Ruby: Yes, of course.
Losing Control 40
Sleepy: How are you? Ruby: I'm all right. He just scared me. Did you find him? Sleepy: Not yet. I'm going back to look for him, but first I wanted to see how you are doing. - You know, I thought he had it under control. That's what he told me. Ruby: That's what I thought too, but he just lost it somehow. Sleepy: All this makes me wonder about the last time. - I'm talking about the time he went away and didn't contact anybody for a long time. I thought it was just because his girlfriend left him, but now...