Losing Control 41
Ruby: You mean he might have done something similar before? Sleepy: I can't be sure. You see, I met the girl after Zeke had gone and she just said it didn't work out between them. But then again, she was tough and she wouldn't have told me anything anyway. Ruby: Will you find him? Sleepy: Yes. He may have good instincts, but I've got a lot more experience. Is there anything you want me to tell him?
Losing Control 42
Ruby: I don't know. I need time to think about it. Sleepy: I understand. You just try to rest and take your time. There's no need to decide anything right away. - I need to go now. Adel, are you coming? Adel: I'll stay with Ruby a little longer. Sleepy: All right. I'll let you know when I've found Zeke.
Losing Control 43
A little later: Chef: Ready to go shopping? - What's wrong? Ruby: Nothing. I just don't feel like shopping today. Chef: Right. Want to talk about it? Ruby: Not really. But I'd like to ask you something. Something personal. Chef: Sure. You can ask and I'll answer, if it's not too personal. Ruby: Have you ever been married? Chef: Yes. A long time ago. Ruby: What happened? Or is it too personal?
Losing Control 44
Chef: Would you tell me first why you're asking? Ruby: I'm just trying to understand this relationship thing. You know, how it's supposed to be. My parents didn't exactly have a normal relationship, so I'm not quite sure... Chef: Have you been fighting with your boyfriend? No need to answer that. I can see it. Well, if it will help, I can tell you about my marriage. - We were both very young and very much in love. That lasted for a few years. Then my wife started to get bored. I was too predictable and dependable and not at all exciting. Then she ran away with some guy who apparently was everything I wasn't.
Losing Control 45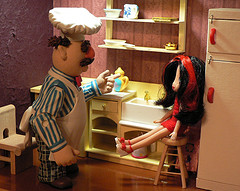 Ruby: I'm sorry. Chef: Don't be. I've been better off without her. Ruby: How can somebody be too predictable and dependable? Isn't that what you're supposed to be? Not go and do crazy stuff unexpectedly? Chef: Depends on what you want. Some people want steady life, others want a rollercoaster ride. You just need to find someone who wants the same things as you do. - So, was that any help at all? Ruby: I don't know. I'm so confused about it all. He was so nice and suddenly he became someone quite different. A total stranger.
Losing Control 46
Chef: What did he do? Did he hit you? Ruby: No, no, nothing like that. He just got angry, really angry. Chef: Why? - I'm sorry, I shouldn't be asking you about it. It's none of my business. Still, I am happy to hear he didn't hit you. Ruby: I thought he would. He was so angry. Then he got really ashamed and ran away. Chef: Well, at least he understood what he had done. Ruby: Does it matter? Dad knew he did wrong, but it didn't stop him.
Losing Control 47
That night: Ruby: Max, what are you doing here? Orlock: Abby told me you're not working tonight and then Riddick said you're not feeling well and I thought maybe I could cheer you up a little. I brought you flowers. Ruby: Thank you. They are lovely. Orlock: So, how are you? Feeling any better? What was wrong? Ruby: I'd rather not talk about it. Come on, let's go upstairs.
Losing Control 48
Ruby: I haven't got a vase, so this will have to do. There's so much stuff I need to get. I hadn't realized moving into your own home included so many purchases. Orlock: It's really nice here. Not entirely into my taste, but still nice. Ruby: You mean it's all too modern and plastic looking and flowery for your taste. Orlock: Well... yes. - Wanna watch TV? There's a werewolf movie tonight. Ruby: Don't talk to me about werewolves! And I don't want to see a horror movie or anything violent. Not tonight. Orlock: Have you been fighting with Zeke? - All right, all right, it's none of my business.
Losing Control 49
Orlock: How about Solaris? The new version. I hear women like Clooney. Ruby: That's the one with the suicidal wife? Too depressing. And I don't want to see anything romantic either. Orlock: No violence and no romance really leaves only documentaries. Ruby: Maybe we should forget the television. Orlock: Won't you tell me what's wrong? Maybe I can help. Ruby: You can't, but I guess I could tell you. Promise me you're not going to tell anyone. Orlock: I promise. Ruby: You were right about Zeke. We had a fight...
Losing Control 50
Ruby: ...and they all seem to think he's bad news. I've been thinking about what he said about those who become one of them later in life. What if you can become unbalanced even if you were born as one of them? Orlock: I can't see any reason why it couldn't happen. Are you saying you think he's going crazy? Ruby: I don't know what I'm saying. I'm so confused. Orlock: Maybe we should talk about something else. Thinking about him isn't going to help you feel any better. - Wanna hear what Miss Piggy did last night?
Losing Control 51
Next day: Sleepy: I thought you might want to know. I found Zeke. Riddick: And? Sleepy: He's not coming back, at least, not for some time. Riddick: Why? Scared to face the consequences? Sleepy: He doesn't believe Ruby will forgive him. - I don't believe it either. Riddick: I hope she won't. He knew what she's been through. If I ever see him again...
Losing Control 52
Sleepy: I know. I hope you know how bad it could get. For both of you. Riddick: That's what Kitty said. It's just... Sleepy: Don't you think it's enough of a punishment that he has lost her? Riddick: Just tell him to stay out of my sight. And to stay away from Ruby. If I hear he's been anywhere near her, I'm going to find him myself.
Losing Control 53
Riddick: Does Ruby know? Sleepy: I asked Adel to call her. She's better at talking to little girls. I guess some would call her blunt, but Ruby seems to like her style.
Losing Control 54
Kitty: So, how was the date? Chase: Like I said, Chester is interesting. I've never met anyone like him. Kitty: Are you going to see him again? Chase: Probably. Did you know that Chester and Zeke are related somehow? Chester didn't explain it in more detail, he just said it's complicated. That's what he always says when I ask about his family. Kitty: Well, it is complicated. Does it matter? Chase: I guess not.
Losing Control 55
Chase: Talking about Zeke, any idea where he is? We were supposed to have lunch together, but he didn't come. He's not answering his phone either. Kitty: He's gone. Chase: Gone? Gone where? Kitty: To the woods. I guess he'll come back eventually, but I wouldn't hold my breath. Chase: What has happened? Why did he go? Kitty: He got himself into trouble and rather than facing the consequences, he ran away. Chase: He's not like that. What kind of trouble?
Losing Control 56
Kitty: I can't tell you. Chase: It's that girl, isn't it? What happened? Did she cheat on him? Kitty: Ruby would never do anything like that. What happened was Zeke's fault and that's all you need to know about it. Chase: You might as well tell me. I'm going to find out anyway, one way or the other. Kitty: Just leave it or I'll put another one of his kind after you. They don't like outsiders meddling with their family affairs any more than we do. And stay away from Ruby.
Losing Control 57
And so: Chase: I'm Chase, Kitty's sister. Ruby: I know who you are. What do you want? Chase: Ah, a rude one. All right, I'll get straight to the point. Where's Zeke? Ruby: I don't know and I don't care. Chase: What did you do to him? Why did he go away? Ruby: That's none of your business. I think you're the one who should go away now. And if you find him, you're welcome to keep him. That's what you've wanted all along, isn't it?
Losing Control 58
Chase: Have you two been fighting over me? Is that it? Ruby: I know you'd love that, but no, it wasn't about you. Chase: Kitty said it was Zeke's fault, but you must have done something. And don't look so innocent and wide-eyed, I know your type. What did you do? Ruby: Go away. I'm going in now and I'm not inviting you. Leave me alone. Chase: I'll find out everything sooner or later. I always do. Ruby: Well, then you do. Goodbye.
Losing Control 59
Later: Abby: Are you all right? Riddick said you weren't feeling well yesterday. Ruby: I'm fine. I don't want to talk about it. Abby: All right, it's none of my business anyway. I was just thinking... If something is wrong, you can tell me about it, if you want. Even if there's nothing I can do, just talking about it could help. Ruby: Thanks, but I need to sort this out myself.
Losing Control 60
Riddick: Did you hear that Sleepy found him? Ruby: Yes, Adel called me. Riddick: Then you know he's not coming back, at least, not unless you ask him to. Are you thinking of doing that? Ruby: I can't. I can't deal with all that. I love him, but it's just too much. Riddick: Maybe I shouldn't say this, but I'm happy to hear that. And I don't mean I'm happy about all that has happened, it's just that he's the wrong kind for you. Ruby: He's like you. Riddick: I know, and that is exactly why he's wrong for you.