A Bit Of Fun 61
Ruby: I'm sure it will. Adel: I wish I could be as optimistic about that. I've been thinking of giving up and finding something else. Ruby: It's your dream! You can't give up! Adel: You have no idea how many dreams I have given up during my life. You can't have everything, no matter how close to immortal you are. Ruby: I won't let you give up.
A Bit Of Fun 62
Adel: You're so sweet, but you shouldn't worry about me. You've got enough troubles of your own. Ruby: But you're my friend. And you always listen to my troubles. Adel: It doesn't mean you need to worry yourself about mine. I can take care of myself. And I'm happy that you count me as a friend, but you really should try to find friends of your own kind and your own age. In addition to Mary, I mean.
A Bit Of Fun 63
That night: Mary: ...and they were very tired and mother came and told them to go to bed. Rosie: Bed. Mary: That's right, and they went to bed and fell asleep and had nice dreams about sunshine and flowers and butterflies.
A Bit Of Fun 64
Kitty: That story always has a different ending, I have noticed. Mary: Rosie likes it that way. - Dad said Toffee is bringing Maurice here tonight. What's he like? Have you seen him? Kitty: Not yet. Mother thought it best that he meets us all together.
A Bit Of Fun 65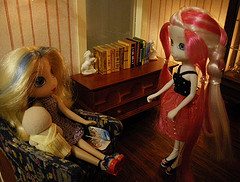 Kitty: And I think we should be presentable when he does, so it's time for Rosie to take a bath. Rosie: No. Kitty: Yes, it is. Rosie: No. Mary: Go on, Rosie. We can read more later, after you have had your bath. Rosie: More! Mary: That's right, but bath first. Now go with ma and have a bath. Then we'll read more. Kitty: Thanks. - Come on, Rosie.
A Bit Of Fun 66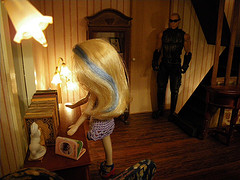 Riddick: Where's Kitty? Mary: Giving Rosie a bath. Riddick: That can't be too easy. Mary: I think it will this time. I promised we'll read more afterwards. Riddick: I guess she got that from Kitty. Mary: I guess so. When was the last time you read a book? What was it? Riddick: Mercenary's handbook. - Just kidding, I read that as a kid. I can't remember what the last one was, though.
A Bit Of Fun 67
Riddick: Mary, I'm glad you're spending time with Rosie. She's so much younger than you. Mary: She's my sister and I like her. I mean, of course I love her, but I also like her, if you understand what I mean. Riddick: I understand. Mary: Besides, I've been thinking that maybe, if I read to her, maybe she will... Riddick: You shouldn't feel responsible for solving that problem. Even Catsy doesn't know what exactly is wrong and she's a specialist. I'm not saying you can't try, but don't be too disappointed, if it won't work.
A Bit Of Fun 68
Ruby: I suppose you're going to tell me he's too old and not right for me. Hagrid: No, I'm not. You've been so happy lately and that's all I want. If that weird little fellow is what it takes, I'm not going to say anything. Ruby: I thought you would say it was stupid to leave Billy. Hagrid: He was a nice kid, but you can find another one like him later. You're too young to make any lasting commitment anyway. Ruby: You think I'm going to leave Schizo too. I'm not. - There's something else I want to talk to you about. It's about Adel...
A Bit Of Fun 69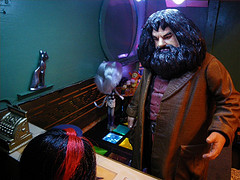 Ruby: ...and I think she could use some help. Hagrid: If she wanted my help, she would ask. I think she wants to do it on her own. Ruby: I know, but she said you need luck. I was thinking, maybe we could give luck a little push. You know, arrange so that suitable people got to see her and then, maybe... Hagrid: Maybe she's good enough to get their attention. I see. You're becoming more like your mother every day. She was always more worried about other people than herself. - I'll see what I can do.
A Bit Of Fun 70
Ruby: You're so nice. Hagrid: I know a lot of people who would disagree, but I'm glad you feel that way. Ruby: I've heard what people say about you. It's not true, is it? Hagrid: Ruby, I don't want to get you involved in some of my businesses, so it's better that you know nothing about them. That way, no one can get to you, even if something happens. Ruby: So you're saying it is true what people say? And what do you mean if something happens? Is something wrong? Hagrid: Don't worry about that. You will be all right. The less you know, the better.
A Bit Of Fun 71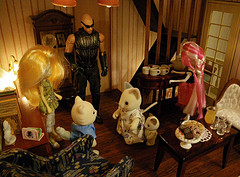 Bea: Are you really an adult? You're so short. Kitty: Bea, don't be rude. Maurice: It's quite all right. You're all thinking the same, because it's a fact. Riddick: It still isn't all right to say that. Bea: I'm sorry. I didn't mean to be rude. Maurice: Don't worry about that. So, who's hiding behind your back? Rosie: Rosie.
A Bit Of Fun 72
Toffee: Oh Rosie, you said your name! - Why haven't I been told about this? Riddick: It's very new development. It seems that she has finally decided to start talking. Before yesterday, she had just been declaring several people bad, and at least once even got it right. Toffee: Who was it? Riddick: Charles, James' father. Toffee: You mean the one she bit in the ankle?
A Bit Of Fun 73
Mary: Toffee, I thought I heard your voice. Toffee: Hello Mary. This is Maurice. Maurice, this is Mary. Mary: Um... it's nice to meet you. Maurice: You know, I'm a mindreader. I know what you're thinking: "He's awfully short. I wonder why that is." Mary: I... I wasn't... Maurice: I'm just teasing you. Seriously, as you are all here, we might as well get that question out of the way.
A Bit Of Fun 74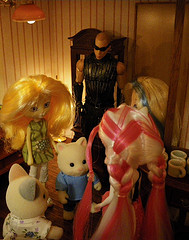 Maurice: I was seriously ill as a child and although I got better, I never grew as much as I should have. So, this is not genetic, just bad luck. Kitty: You have done well in spite of that. Maurice: Yes, well, short stature is sometimes a benefit in my line of work. You see, most felines tend to be really ashamed of coming to see me, so they are more at ease when they can feel in some way superior to me. And they would never speak to a non-feline.
A Bit Of Fun 75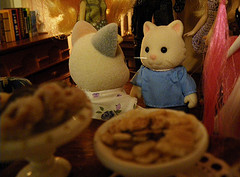 Bea: What do you do? Maurice: I'm a psychiatrist. Do you know what that is? Bea: You treat crazy people. Riddick: Bea, you could try to select your words a bit more carefully. Maurice: Well, it's not that far from the truth. Some of my patients do have mental illnesses, but most are just a bit confused or stressed out or have problems they can't sort out themselves. So, they come to me and tell me about it and sometimes we manage to get things right. Bea: You get paid for listening to people? I could do that.
A Bit Of Fun 76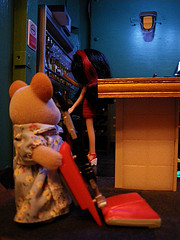 Mrs. Splinter: Ruby, why are you still here? It's really late. I thought your friend was coming to take you home. Ruby: He is, but he's got a special performance tonight and it's a bit longer than usual. He'll be here any minute. Mrs. Splinter: That's good. It's much too late for you to leave here on your own.
A Bit Of Fun 77
Ruby: Mrs. Splinter, can I ask you something? Mrs. Splinter: Of course. What is it? Ruby: Well, somebody said something about mouse families and I want to know if it's true. Mrs. Splinter: And what was it they said? Ruby: She was talking about over a dozen children. Mrs. Splinter: That's quite correct. Many families have that many children. We only have ten, because we had one child at a time. If you get twins or more, there can easily be over a dozen children.
A Bit Of Fun 78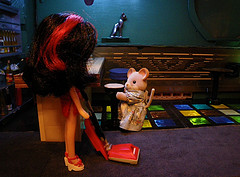 Ruby: How do you deal with something like that? Mrs. Splinter: It's hard, but you just do it. I mean, there isn't much choice. You can't abandon your own children. - Why are you asking all these questions? You're not pregnant, are you? Ruby: No, I'm not. I've just been thinking about all that. You know, if I want children and how many would be a good idea. Mrs. Splinter: Don't worry about it. You'll know when the time comes. First you'll have one and then you'll know if you want another. I hope you're going to get married first. I know it's acceptable nowadays to have children without being married, but you really need both parents to raise children right.
A Bit Of Fun 79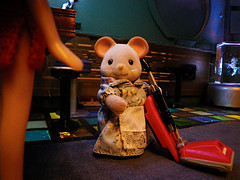 Ruby: I know, although I'm not sure if Schizo would be very good at raising children right. Mrs. Splinter: You'd be surprised what people can do when faced with the situation. - Ruby, you don't need to call me Mrs. Splinter. It's so formal and I feel like we've known each other for a long time already. You can call me Bella. Ruby: Is that your name? I didn't know. Mrs. Splinter: Actually, I'm Annabella, but all my friends call me Bella. Ruby: Does that mean I'm your friend too? Mrs. Splinter: Yes, I'd like to think so. I know you're young enough to be my daughter, but we can still be friends.