Mothers And Fathers 1
Ursula: James... James: Uh... mother? How...? What are you doing here? Ursula: I flew back as soon as I saw the tabloids. What have you done? James: I... I can explain. Ursula: Oh yes, I'm sure you can. You got that from your father. So, what happened? First you tell me you've got a wonderful girlfriend and then this... James: Let me explain. Ursula: Explain then. And no lying, I can always see when you're lying.
Mothers And Fathers 2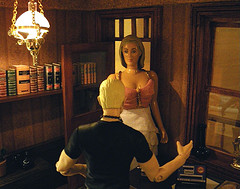 James: ...and it all ended up a bit of a mess. Ursula: You could say that. My agent was furious. First about the scandal and then about me interrupting the book tour. James: I'm sorry. Will it affect the sales? Ursula: Depends on what we do about the situation. - I should never have left you with your father. James: Don't start that again. So, what do we do about the situation? Ursula: I need to think about that.
Mothers And Fathers 3
Ursula: How about that feline? Are you serious about her? James: Of course not. She's not the type. I don't think anyone could love her. Ursula: So, you're not quite like your father after all. James: You're talking about that black cat? She's here, in town. Father is getting a divorce because of her. Well, he says it's because of me and Pamela, but that's just an excuse. Ursula: Really? Are you saying he has finally decided to be a man? It's about time. - And don't say "cat," it's rude. They're felines.
Mothers And Fathers 4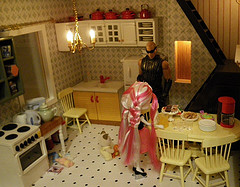 Kitty: Was that Veronika on the phone? How's Toby? Riddick: Fine. He loves Veronika, always did. Kitty: I'm happy that "sending him to live in a farm" wasn't a euphemism. Riddick: I could never have done that. Marv would have taken him, but Piggy... Kitty: Those two never did come along. - I'm sorry you had to give him up.
Mothers And Fathers 5
Riddick: It's all right. The city was never a right place for him. Now he has all the space he needs. Kitty: And the prowler? Riddick: Veronika said they haven't seen a trace of him. She also said she's not interested in knowing what happened. Kitty: Well, they did put up all those warning signs. After that... Riddick: Any trespasser does so at his own risk. Although I'm not quite sure if the law is that simple on the matter. Kitty: Law has nothing to do with it as long as there is no evidence.
Mothers And Fathers 6
Riddick: So, what's all this? Are we having a party? Kitty: No, not us. Bea is bringing friends over after school. It seems that she's got a very special new friend. Riddick: Special how? Kitty: You can wait and see. Or are you going somewhere? Riddick: Not yet. All right, be mysterious, if you want. I can wait. Kitty: Now, these are for Rosie. First food, then sweets.
Mothers And Fathers 7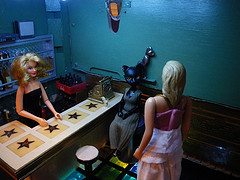 Ursula: Are you Catsy? Catsy: Yes. I guess you're Ursula. Ursula: That's right. So, we meet at last. Thanks for coming on such a short notice. Catsy: Any special reason for wanting to see me? Ursula: Curiosity mostly, I guess. I flew back as soon as I saw the tabloids. James told me what's been going on. He told me about you. Catsy: None of it has got anything to do with me. James made a mess all by himself. Well, not quite, Pamela helped a lot.
Mothers And Fathers 8
Ursula: I'm not blaming you of anything. Like I said, I was just curious. You know, to see why my marriage never worked. Catsy: I didn't see him after he chose you. I went away. Ursula: I know. He just didn't forget. I would never have married him, if I had known about you. Still, it's old history. I hope you can make him happy. Catsy: Are you saying that just to be civil or do you really mean it? Ursula: I mean it. You see, he's been bad influence on James. I'm hoping you can change some of that. Maybe things would be better between them, if Charles was happier.
Mothers And Fathers 9
Catsy: Aren't you at least a bit bitter about how things have turned out? Ursula: No, are you? After all, I took him away from you for a long time. Catsy: Like you said, it's old history. Ursula: You know, as you're a feline, I thought maybe you could tell me something about the one James has been seeing lately. Catsy: Maybe it's better that I don't. You could say I have a very strong bias on that issue. Ursula: That bad? What did she do? Catsy: I'd rather not talk about it.
Mothers And Fathers 10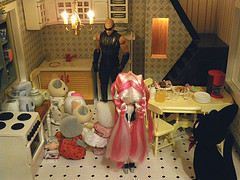 Riddick: Which one is the mystery guest? Bea: Mystery guest? Kitty: This is Bernadine. Bibi: But you can call me Bibi. Nobody calls me Bernadine, except papa when he's angry. Riddick: All right, Bibi it is. I'm Riddick. So, Miriam and Eva I know already, but who's the other new friend? Bea: This is Nadine. She's new too. She came to our class last week.
Mothers And Fathers 11
Bibi: The one by the door is Delilah. She's my bodyguard. And Edouard's in the limo. Riddick: Limo? Bea: It was really cool. Everybody at the school stared when Bibi's driver came to get us. Riddick: A driver and a bodyguard. Who are you, Bibi? Bibi: Oh, nobody special. Papa just has a lot of money and he's worried that someone could try to hurt me, so Edouard and Delilah look after me. Riddick: I see.
Mothers And Fathers 12
Kitty: Bibi, your driver, Edouard, do you think he'd like a cup of coffee while he's waiting? Bibi: You can ask him. He's usually reading while he's waiting. Something by a writer called Niche. Kitty: Nietzsche? Interesting. Bibi: Who's this? Bea: Rosie's my sister. Rosie, this is Bibi. Bibi: She's not like you, Bea, is she?
Mothers And Fathers 13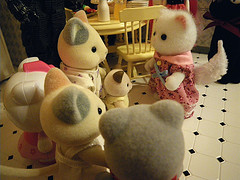 Bea: I told you I don't like that pedigree stuff. Bibi: But it's important. Papa always says that you're better off being friends with same kind of people. Others will only want something from you, or they will get jealous. Kitty: So, you've got a pedigree? Does your papa know who I am? And he still let you come here? Bibi: Of course he knows. He knows everything. He always makes people check people I'm going to meet. He said your grandfather was a great man. Kitty: I suppose I should have guessed that. - Girls, if you'd like to go upstairs, Riddick and I will bring the food there.
Mothers And Fathers 14
Schizo: Max, I don't think I want a drink after all. Orlock: What are you talking about? You never refuse a drink. Schizo: I do now. - I'm not looking, I'm not looking... Orlock: Not looking what? Oh, a tall blonde. A really tall blonde. Schizo, don't be silly, you can't avoid them all your life, you just need to ignore them. Schizo: I can't. - Ruby will be mad. Orlock: Because you looked at someone else? I don't believe I'm hearing this.
Mothers And Fathers 15
Schizo: I can't take the risk. Orlock: But you will or I'll go straight to Ruby and tell her what you just said. - What has happened to you? If that's what love does to you, I guess it's better that I never get any in return. Schizo: You don't understand. I don't want to spoil everything. I promised Ruby that it's all over with the other women. Orlock: This is too hilarious. I think I'll tell her anyway. Schizo: You shut up or I will find a way, no matter how hard you say it is. Nobody's immortal.
Mothers And Fathers 16
Ruby: What are you two doing standing here? Aren't you going to have a drink? Orlock: Yes, we are. Right, Schizo? Schizo: Right. Ruby: Is there something going on? Orlock: Nothing. We were just discussing bad habits. Ruby: What sort of bad habits? Schizo: Like opening your mouth in a wrong place and the trouble it can get you into.
Mothers And Fathers 17
Mary: It was getting a bit crowded up there. Don't worry, Delilah is keeping order, so Rosie's fine. I tried to get Rosie come down here with me, but she loves the attention too much. It seems that none of Bea's friends have a baby sister. Riddick: Kitty, what is Delilah? Not a big cat, I can see that much, but not like you either. Kitty: Physically, one of the more primitive forms of felines, but otherwise just like anyone else. I'd say probably everybody in her family is in the protection business. That's how it usually is with them.
Mothers And Fathers 18
Riddick: I need to get to work. There are a couple of guys coming in for an interview. I never realized how hard it is to find security people who haven't got a few screws loose. Kitty: That's what you get with felines. The problem is, Hagrid can't afford to pay enough to get someone like Delilah. Her kind can choose, so they work for very rich people. Riddick: How do you know she's that good? Kitty: I've seen what they can do and believe me, it isn't pretty. Riddick: Worse than Toby? Kitty: Probably not, Toby's even more primitive. Delilah wouldn't eat anybody. I think.
Mothers And Fathers 19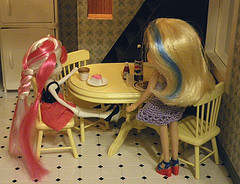 Mary: Dad's not too happy about Toby going away. Kitty: Toby was getting restless. That garage was really too small for him. Mary: I know, but dad's still upset. Kitty: At least we know Toby is in good hands. And he's got a lot of space to roam free. Mary: Why couldn't Marv take him? He's on the move most of the time. Kitty: You're forgetting Miss Piggy. Mary: I guess it wouldn't have worked.
Mothers And Fathers 20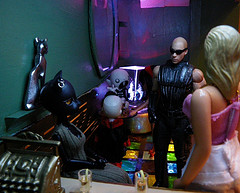 Catsy: Did James tell you about Mary or is he an even bigger jerk than we all think he is? Ursula: He told me. She sounded like a really nice girl. It's a pity he messed it up so badly. Catsy: Here comes somebody I want you to meet. Riddick! Riddick: Yes? Is everything all right? Catsy: Everything's fine. At least so far. Let me introduce you. Ursula, this is Riddick, Mary's father. Riddick, this is Ursula, James' mother.