Girls' Night 1
Wendy: I can't stay long as I'm on the night shift tonight, but I didn't want to let Ruby down. Abby: I'm glad about that. It really means a lot for her to have her friends at her party. Wendy: And she's got so many now. I remember when I first met her. She was so lonely and scared. Abby: She certainly has come a long way. It's a pity her uncle had to leave, though. She took it hard. Wendy: I guess you know why he left. Abby: I know nothing about Hagrid's business operations nor do I wish to. Wendy: Very sensible attitude. Rosemary: Thanks for inviting me, although we've never met. Ruby: You're Will's foster mom. Of course I wanted to meet you. I like Will and Max has been so happy. I guess a big part of that is due to you, Beth. We had no idea Max had a girlfriend. It was very naughty of him to keep you a secret. Fortunately Rosemary mentioned you when I called her. Beth: I've been asking him to introduce me, but he seemed a bit reluctant. When he heard there will be only girls here, he seemed relieved. Ruby: I guess he's worried about Schizo. As I was very recently told, Schizo is a bit odd.
Girls' Night 2
Adel: Ruby says you're her friend, but I must say I find it hard to believe. Then again, she is much too kind for her own good. Charlene: What's your problem? Are you afraid that I might be bad influence on her? Adel: Not just might. How much does she know about what you do? Charlene: Enough. I promised Schizo I'd be careful about what I tell her. Adel: Well, at least you've got some sense. Piggy: You're a teacher? How do you know Ruby? Lenore: I'm Bea's teacher and I know Henry, and of course Kitty and Riddick. Gaby: Who's Henry? I've met so few of Ruby's friends. Lenore: Henry's a scientist. I'm not sure if he's really Ruby's friend, but he comes here sometimes. For a drink and to talk with Riddick. Gaby: Oh, so they're friends? I'll get all this straight one day. Ruby's managed to do so much after she disappeared. Lenore: Disappeared? Gaby: That's a long story and I'm not sure she'd want me to tell you.
Girls' Night 3
Kitty: I'm sorry I didn't listen to you. I guess I got a bit carried away, because grandma Anika and I had such a fight when I wanted to have my first shoes. Are you sure you want to wear those shoes tonight? Bea: Yes. The party is for big girls and big girls wear shoes. Kitty: As long as it is what you want. You can take them off any time. They can make your feet hurt a bit at first. Bea: All right. Let's go in, I want to see Ruby's friends.
Girls' Night 4
Gaby: Have you ever done any modeling? Mary: Modeling? Me? Are you kidding? Gaby: Not at all. You've got the looks. I'm sure it wouldn't be too hard to find an agency for you. Mary: Dad would have a stroke. And besides, I need to study. Gaby: That costs a lot of money. You could make it that way. Mary: I'm not interested. I don't want people staring at me all the time. Gaby: I guess it's different, when you've been pretty all your life. You're used to it. I can't get enough of the attention. Mary: But surely... Gaby: Hasn't Ruby told you? I didn't look this way when we were at school. Isn't it amazing what plastic surgery can do?
Girls' Night 5
Ruby: Did you meet Charlene? Adel: I sure did. Ruby: What's wrong? Adel: I don't understand how you can be friends with her. Ruby: Why not? She's nice and she knows a lot of stuff I've never even heard about. Adel: That's just the problem. Ruby, the kind of things she knows are the kind of things you don't need to know. I know what she does for a living. Ruby: I don't understand. You never had a problem with that stuff before. Adel: Relationships, no matter how brief, are an entirely different matter than doing it for money. Ruby: So let me get this straight. Your kind use men to get babies and then dump them and it's just fine, but if someone else uses men to make a living, it's wrong? Is that it? Adel: I... um... you see... it's not that simple... Ruby: I'm sure it isn't. Look, I'm not asking you to like her, just don't be mean. Adel: I'll be as nice as I can.
Girls' Night 6
Charlene: You must be Bea. I'm Charlene. Bea: Yes, I'm Bea. How did you know? Charlene: Riddick told me you'd be here tonight. - So, Kitty is your mom? You don't look like her. Bea: No, she's my... foster mom. My own mom is away. Charlene: I see. Bea: You've got a picture on your leg. Charlene: Do you like it? I've got another one on my back. Bea: Do they wash off? Charlene: No, they're permanent. They're called tattoos. Bea: I wouldn't want a picture that won't wash off. Charlene: It's a matter of taste. Some want them, most don't. You're much too young anyway. Bea: But it's pretty. Charlene: Thank you. Bea: Are you a performer too, like Ruby's boyfriend? Is that why you've got those... tattoos? Charlene: No, I'm not a performer, but I guess you could say I'm in the entertainment business. Bea: Gaby's in the entertainment business too. She's Ruby's friend and she's in a movie. Ruby said I can't see the movie, because it's a scary one. Charlene: Yes, I heard it's a horror movie. You're too young for those, too.
Girls' Night 7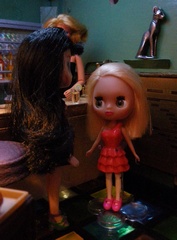 Beth: Are you really a movie star? Gaby: I'm in a movie, but I'm not a star yet. Beth: I'd love to be in a movie. Not necessarily in any big role, but just so I could see what it's like. Gaby: If you're interested in being an extra, come by the studio tomorrow. The casting people are looking for suitable people for a big scene. You know, people on the background, walking on the street, coming out or going in stores and stuff like that. Beth: That would be fun. Thanks. Gaby: I'm not promising anything, but if the casting people like the way you look, you might get selected.
Girls' Night 8
Lenore: I see you've brought Bea with you. Kitty: She kept begging and we thought there wouldn't be any harm in her coming for a couple of hours. Riddick will come and take her home later. Lenore: No harm in that. Ruby's friends all seem to be very decent people. Well, except the one whose outfit is borderline indecent. Kitty: Charlene? You're right, she's certainly no role model for little girls, but Riddick talked with her and made sure she'll watch what she says.
Girls' Night 9
Piggy: I don't think we have met. I'm Piggy. I work at the theater where Ruby used to work. Charlene: I'm Charlene. I met Ruby here. You know, this doesn't seem like a place you... Piggy: Oh, it isn't, but I had to come and see, especially as Ruby invited me to come tonight, so I could meet her friends. Charlene: You also don't seem like somebody who'd want to be her friend. Piggy: We've had our problems, but all is forgiven and forgotten now. She's such a sweet girl. Charlene: Yes, she is, and a bit too nice for her own good, as I've heard said more than once.
Girls' Night 10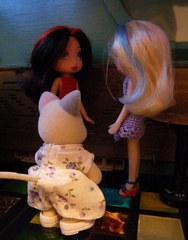 Ruby: So you went out with Billy? Did you have fun? Mary: It was nice. He's funny and his friends were nice. Even Carl was making an effort to not be too creepy. Ruby: That must have taken a lot of effort, but I'm glad to hear he did it. I guess it's about all the harrassment stuff. Mary: What? Ruby: Daniel mentioned that Carl can't afford any more arrests, if he intends to stay out of jail. Mary: What has he done then? Ruby: He seems to have trouble understanding the word "no." If I understood correctly, he's got a couple of restraining orders. Too fond of felines who aren't fond of him. Mary: Why would anyone want a girl who's not interested? I'm sure he could find someone, even if he is creepy. Ruby: I guess he's not into mental cases and who else would want him? Charlene told me that guys like him have a feline fetish. It seems to be common with the little people. Bea: What's a feline fetish? Ruby: Oh, Bea, where did you...? How much did you hear? Bea: What's a feline fetish? Mary: Um... it means that a guy who isn't a feline wants a feline girlfriend just because she's a feline. Bea: That doesn't make sense. Mary: No, it doesn't, but some people are like that. Remember what Kitty has told you about people who may want to be your friends just because you've got a pedigree. It's a bit like that. Bea: I think it's stupid. Ruby: Yes, that's exactly what it is.
Girls' Night 11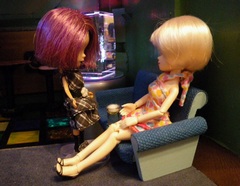 Adel: So, you're Rosemary, Will's foster mother. I'm Adel. Rosemary: Will told me about an elf lady. Was that you? Adel: Yes. We met at Ruby's home. He's a very special little boy. Rosemary: I know. A bit too special, maybe. I'm always worried that perhaps I may not be able to raise him right. Adel: I'm sure you will, with Max to help you. After all, what he needs most is to be accepted and loved the way he is. You can't change them and you shouldn't even try. Rosemary: I know. That's one of the first things Max explained to me.
Girls' Night 12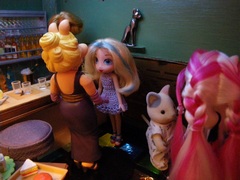 Mary: Is Marv all right? I haven't seen him for some time. Piggy: He's fine. He's just been busy with work lately. Mary: Did you hear about Chef? Ruby told me he opened his own restaurant. Does Marv still have a problem getting into restaurants? I'm sure Chef will be happy to see him. Piggy: Yes, I think his place is one of the best ones we'll be allowed in. Mary: People are so stupid. I think Marv is great and it shouldn't matter what he looks like. Piggy: That's because you're nice. Most people aren't.
Girls' Night 13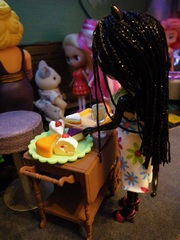 Lenore: Diet or no diet, these look much too good to pass.
Girls' Night 14
Gaby: I heard you're a dancer. You certainly look like it. Adel: And you're Ruby's old friend. I'm glad to hear she had friends back then. Gaby: If I'd been a better friend, she wouldn't have had to run away. I know you know about it. Adel: You shouldn't blame yourself. You were both just kids. Still are, from my point of view. Gaby: Oh yeah, and what's that point of view? Adel: Hasn't Ruby told you? Kids these days... You should take heed of what a very polite little boy told me his grandpa had said: You better be polite to elf ladies or they might get nasty. Gaby: Elf? You're an elf? Really? I've always wanted to meet one. Adel: What on earth for? There are a lot of people who think their life would be better, if they had never met an elf. Of course, those are the ones who didn't understand to be polite.
Girls' Night 15
Ruby: Excuse me, this is a private party. Ladies only. Hector: I'm sorry to interrupt, but this is official. We're searching all premises in the area. Ruby: Police? You don't look like it. Hector: Special unit. We're looking for a giant wolf that has been seen in the city area. Ruby: A wolf? I haven't seen any wolf. And there's certainly no wolf here. Didn't you see the sign? We don't let canines in.
Girls' Night 16
Mrs. Splinter: Hector? I thought I heard your voice. What's wrong? Hector: Mom, I'm working. Mrs. Splinter: I can see that. Ruby: Mom? Bella, is this...? Mrs. Splinter: This is my oldest son, Hector. Hector, Ruby is my boss and the owner of the bar. Hector: The owner? I thought... Mrs. Splinter: I guess I forgot to tell you that things have changed here. Hector: Well, anyway, I need to check the back rooms. Ruby: All right, but you won't find anything there. As I already said, we don't let canines in. Mrs. Splinter: What canines? Hector: We're looking for a giant wolf. Now, could I get on with my work? I've already spent too much time chatting. Mrs. Splinter: Hector, don't be rude, working or not! Come on, I'll show you the back room, but there's nobody there. I should know, I've been there all evening.
Girls' Night 17
Adel: What's that rodent doing here? Is something wrong? Ruby: The cops are looking for a giant wolf. I'm sure it's Zeke. Call Sleepy and tell him to warn Zeke. Adel: All right. Even if it isn't Zeke, Sleepy and Sneezy should know about this. It's bound to be somebody they know. Ruby: And if it isn't? Adel: The more reason for them to know about it.
Girls' Night 18
Charlene: So, this is the little one. Very cute. Riddick: Yes, this is Rosie. Charlene: That's a pretty name. Hello, Rosie. I'm Charlene. Can you say Charlene? Rosie: Charlie! Charlene: Close enough. - I guess you came to get Bea home. She's cute too. I didn't know she's not yours. I can understand you taking her in, but Kitty... Felines don't usually have foster kids. Riddick: Bea is a distant relative and anyway, Kitty isn't your typical feline. Charlene: Being married to you, she can't be. So, where is Bea's mom? "Away" can be so many things. Riddick: I'm glad you didn't ask her. Charlene: I'm not stupid, you know. She's not dead, Bea would have said so. The most probable meaning of "away" is either hospital or prison. Riddick: None of your business. Charlene: No need to get offended. I won't ask any more, and anyway, I wouldn't tell anyone, even if you told me how it is. I earn quite enough without selling stories to reporters. That's what you're worried about, isn't it?
Girls' Night 19
Charlene: Well, Rosie, it was nice meeting you. I hope we'll meet again. Rosie: Bad! Riddick: Don't mind about that. It's surprising that she said anything at all to you. Charlene: I suppose I can't really argue with her judgement. You do know why she thinks so, don't you? Riddick: She doesn't. Charlene: Oh, but she does. I irritated her daddy, so I'm bad. Very logical. You're a clever girl, Rosie.
Girls' Night 20
Riddick: There you are, Bea. Time to go home. Bea: Not yet, just a little bit longer, please. I'm having so much fun. Riddick: Sorry, it's already past your bedtime and Rosie needs to go to bed too. She's only awake because she had a very long nap earlier. Bea: Is Mary coming too? Riddick: No, Mary can stay longer as she's older. She'll come home with Kitty. Bea: Not fair! Riddick: You can stay up late when you're older. Now you need to do as I say.