Questions
Bea: Kitty, why does someone have a feline fetish? Kitty: What? Where did you hear that one? Bea: Mary and Ruby were talking about some guy and Ruby said he has a feline fetish. Kitty: And they were talking about that with you? Bea: They didn't notice me at first. Then I asked what it meant and Mary said it means that a guy, who isn't a feline, wants to have a feline girlfriend, just because she's a feline. Kitty: Oh, that's all right then. Bea: But why would somebody be like that? Kitty: Well, people have different ideas on what they find attractive and some people just think that felines are the coolest thing they know. I know it doesn't make sense, but people do all sorts of things that don't make sense. Bea: I wouldn't want a boyfriend who is with me just because I'm a feline. Mary said it's like the people who want to be my friends, because I've got a pedigree. Kitty: Yes, it is a bit like that, and you're right, somebody like that would be a very bad choice. I hope you understand that most feline guys only want a feline girlfriend, although it's for a different reason. Bea: You mean that thing Mary calls "feline superiority crap?" Kitty: Bea, don't use that word! Mary shouldn't use it either. - I didn't know you're interested in the boyfriend stuff already. Anyone particular in mind? Bea: Of course not! - I think Daniel wants to be Bibi's boyfriend, but Bibi says he's only nice to her because of her papa's money, so she doesn't like him.
Television
Bea: I can't see anything. Rosie's blocking the view. Riddick: Don't worry, I'm recording this, so you can watch it again later. Rosie just haven't seen a TV before. Let her figure it out. Bea: Why didn't we have a TV before? Riddick: It's mostly just bad news, reality TV and game shows. You can do without those. Mary: So, why did you get one now? Kitty: My fault. I wanted to watch some old movies. Bea: Can we watch TV whenever we want? I mean, when you're not sleeping. Riddick: No, you must first ask me or Kitty. Mary: That's not fair. Kitty: Riddick, I think we can exclude Mary from the rule. She's old enough. Riddick: All right, if you think so. Bea: That's not fair. Riddick: Sorry, that doesn't work twice. You're too young and I want to know first what you're going to watch. Bea: What if I ask Mary? If she's old enough... Kitty: Bea, don't you think you should give up? We are not going to limit you too much, but we need to be sure you're not watching anything unsuitable. Bea: Like what? Riddick: Violent movies or Jerry Springer. Bea: Why would I watch that? It's a canine show. Riddick: And how do you know that? Bea: Bibi told me about it. She said her papa owns the company that makes the show.
Housekeeper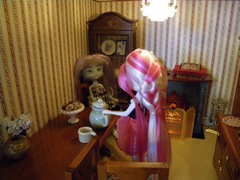 Anika: When you called, you said you need my help with something. What is it? Kitty: I'm going to get a housekeeper. Anika: Really? And what's that got to do with me? Kitty: There's a promising candidate coming to see me in any minute now. I want you to talk with her. I think she seems fine, but you've got more experience in these things. Anika: Well, I must say I'm surprised. You've never wanted any help before. Kitty: I want to be sure she's the right one. If she can deal with you, she can deal with anything. Anika: I'm not sure if I should take that as an insult or compliment. - So, what happened to your disdain of upper class people who are too lazy to do things themselves and need hired help? Kitty: We're not hiring an army of people, just one. This house is too big for me to take care of. The cleaning alone... Anika: I understand perfectly. I just couldn't resist the temptation. - What's she like? Not a feline, I take it? Kitty: No, not a feline. There were no feline applicants. The agency said you can't find feline help and even if you could, you wouldn't want to hire them. Anika: Yes, that's the way things are nowadays. Cleo said the world has changed... You know, we had a lot of feline staff then, and they were quite good. We wouldn't have kept bad ones.
Daphne
Kitty: I'm sorry about the third degree. I wanted to be sure I'm hiring the right person and grandma has more experience in these things. Daphne: It's all right. Actually, I've been asked all those questions several times before. Well, all except those questions about my father. Kitty: Your father? Daphne: He's a writer and he writes about paranormal phenomena. Paul Bunnyan, you may have seen his books in stores. Kitty: Oh, I see. Well, those questions had nothing to do with the job. Grandma was just using the opportunity to do some investigation of her own, I guess. I hope it wasn't too intrusive. Daphne: Not at all. I don't believe in any of that stuff, but I'm always happy to talk about my father. Does your grandma believe in the paranormal? Kitty: Unfortunately. Daphne: So, is this Rosie? Kitty: Yes. Bea and Mary are still at school, but it doesn't matter, you'll get along with them fine. Rosie may be a bit harder case. Daphne: I'm sure we'll get along just fine. Rosie, my name is Daphne. Rosie: Daffy! Kitty: She doesn't talk much. That was actually the hardest word she's tried so far. Daphne: I'm sure she'll get it right some day. Until then, I can be Daffy.