Pet 1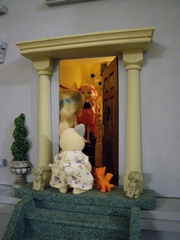 Bea: Kitty! Kitty, look what we found! Can we keep him? Mary: I'm sorry, Kitty, but we just couldn't leave him. He's just a puppy and he could have been run over by a car or something. Kitty: Oh dear. Well, you better bring him in. Bea: Can we keep him? Kitty: Bea, he is somebody's pet and his owner is probably looking for him. Bea: But if he isn't? Kitty: These are expensive pets. He must have an owner.
Pet 2
Daphne: I'm Daphne, your new housekeeper. You must be Mary. Mary: Yes. Kitty told me she was going to hire a housekeeper. Aren't you worried about working for felines? Daphne: Not at all. I've done that before and there have never been any problems. - So, we were just going through the list of things I need to do. One of them is cleaning your room. Do you have any objections to that? Mary: Why would I? Daphne: I was just wondering if you consider that an invasion of privacy, that's all. Mary: Oh, don't worry, I never leaving anything private out in the open. You know, because of Bea and her friends. Daphne: Yes, I know how curious little sisters can be.
Pet 3
Bea: Are you angry? Kitty: Of course not. You probably saved his life. But you must understand that we need to inform the animal protection people in case somebody's looking for him. Bea: I know. Kitty: Still, we can keep him until the owner shows up. Bea: What if nobody's looking for him? Kitty: That's a very slim chance, but if that happens, we'll think about what to do.
Pet 4
Later: Riddick: Hello, you must be Daphne. I'm... Daphne: Yikes!
Pet 5
Kitty: What was that? What happened? Riddick: I'm sorry, I didn't meant to startle you. I'm Riddick. Daphne: It's all right. It's just... well, Kitty didn't tell me... Kitty: I'm sorry too. I should have mentioned about his size. Daphne: No harm done.
Pet 6
Riddick: Is Daphne coming back tomorrow? Kitty: Yes. I told her there will be no more surprises. She met grandma and you and I warned her about Chase, so everything should be fine now. Riddick: Good thing Toby isn't living with us anymore. - Did you call the animal protection people? Kitty: Yes, they'll let us know, if the owner shows up. Riddick: And what if that won't happen?
Pet 7
Kitty: How big do they grow? Riddick: About as tall as Bea is now. Nothing we couldn't handle. Kitty: So you think we should keep him? Riddick: Her. Kitty: Oh, how do you know? Riddick: I checked. A male would be too agressive as a house pet, but females are fine. They're good guards too. Not the kind that can shred a burglar to pieces, but the kind that make a lot of noise, if there's something wrong. Kitty: I guess I know what you and Bea want, but first we'll wait and see, if somebody wants her back.
Pet 8
Riddick: Speaking of pets, what happened to the goat? Kitty: What goat? Oh, Beelzebub! Grandma gave him away. He's living in farm now with an entire harem all to himself. Riddick: Really? I thought she... Kitty: Got back to her senses. That so called medium who got her head all screwed up was a con-artist. It took a lot of convincing to make grandma see that, but she finally did. Riddick: You know, if Anika believes in that stuff... Kitty: She does. Riddick: Why didn't she believe in the angel? Kitty: Because she only believes in ghosts of once living people and in people coming back in another form after death, nothing else.
Pet 9
Next day: Bea: Kitty, can my friends come in to play? Eva: Where's the puppy? Miriam: Bea told us you've got a puppy. Kitty: I think we better go to the basement, there's so many of you. Mike: Cool! We've never seen the basement. Bea says there's all sorts of cool stuff there. Kitty: Bea, where's Mary? Bea: She went to the library with her friends as Edouard was driving us. Kitty: All right. - Daphne! We'll be in the basement in case somebody's asking.
Pet 10
Nadine: She's so cute. I wish I could have a puppy. Nora: But she's not really Bea's puppy. I mean, you said you can't keep her, Bea. Bea: Kitty says that she must have an owner and that they probably want her back. Eva: I wouldn't give her back. Miriam: Me neither. It's probably their fault she ran away.
Pet 11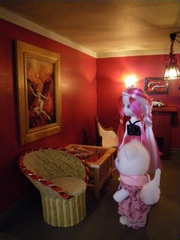 Bibi: Is that a genuine Rowena? Kitty: Yes, it is. How did you know? Bibi: Papa collects them. The ones that have felines in them. Kitty: I guess he wouldn't care for this one. Bibi: No. Well, maybe as an investment. He could hang it in the office. There's lots of different kinds of people there, so he's got all sorts of pictures, but at home we only have pictures of felines.
Pet 12
Mike: What are those? Kitty: Very sharp blades. You can look through the glass, but don't try to open the doors. Mike: Of course not. Mom says it's rude to go looking into other people cupboards. You know, opening the doors. She says it's all right to look, if you can see through the doors, because then you're supposed to look. Kitty: That's right.
Pet 13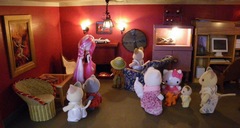 Eva: She doesn't have much clothes on. Miriam: At least she's not naked. I saw a painting at the museum and nobody in it had any clothes on. Mom said it was because it's art. Eva: If it's a painting, it's art. Dad had calendars with naked women in them and mom said they were trash. Mike: This is so cool! Are those real guns? Kitty: Antique. I guess you could still fire them, if you went through all the trouble of loading them first. Nora: What's that shield for? Kitty: Decoration. It's a guy thing. Mike: I want a room like this when I grow up. Kitty: I thought you might.
Pet 14
Chase: Who are you? Daphne: I'm Daphne, the housekeeper. And you are? Chase: Chase. Let me in. Daphne: Kitty and the children are in the basement. Chase: What are they doing there? Nevermind, I'll check for myself. I know the way.
Pet 15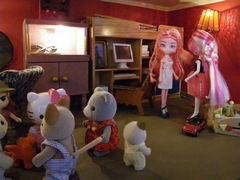 Chase: Looks like you got invaded. Kitty: Bea told them about the puppy, so of course they wanted to see her. Chase: I was just going to ask you about that. Bought a new pet to replace the monster? Kitty: No, Bea found her. We're looking after her until the owner is found. Chase: And then you'll ask "how much?" Don't try to kid yourself, you can't give her away now. Kitty: I guess you're right. Riddick likes her too and they're supposed to grow up to be excellent guards. Chase: By the way, I met your so called housekeeper. Kitty: Nothing so-called about it, she is our housekeeper. Chase: Since when? Kitty: Yesterday. Chase: I never would have believed that you'd be hiring servants. Kitty: She's not a servant, she's an employee. And you need to be nice to her. It would be hard to find another one who can deal with grandma.
Pet 16
Bibi: Who's that? Bea: It's aunt Chase. She's Kitty's sister. Bibi: The one who was in jail? Bea: How did you know? Bibi: I heard papa and Cleo talk about it. Cleo doesn't like her, but papa says that anybody can make mistakes. And mama used to say that if you're pretty enough, people won't mind, if you bend the rules. Bea: What does that mean? Bibi: I'm not quite sure, but I think it means that people let you do bad stuff, if you're pretty. Bea: Aunt Chase is a lot nicer now than she was before. Grandpa told a funny story about her...
Pet 17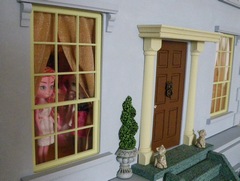 Chase: Finally! The invasion is over. Bea and Rosie are great, but all those others... Why do you let them in? Kitty: They're Bea's friends and they are all surprisingly well-behaved. Chase: If you say so. Who's the guy in the car? I noticed him when I came. Kitty: Edouard, Bibi's driver. He's taking everybody home. Chase: That little girl has her own driver? Who is she? Kitty: Her father seems to be very rich, owns several large companies and who knows what else. Chase: Oh, interesting. It's never a bad idea to have friends like that. Kitty: Bea isn't her friend because of that. And before you ask, yes, Bibi's got a pedigree. Chase: Even better.
Pet 18
Chase: Have you seen Callie lately? Kitty: She's been busy with work. They've got a big case coming. She'll bring Joey here for the weekend, though. Her boss asked her to do some last minute preparations for the case during the weekend as the trial starts on Monday, and her regular babysitter doesn't do weekends. Chase: So, not only did she find long lost relatives, she found a free babysitting service. Kitty: Joey is very nice and Bea likes him. They'll have a fun weekend together. Chase: Sure. And you'll end up taking them to the ER after that little monster bites them. Kitty: The puppy? She doesn't seem aggressive, but of course we don't leave the kids alone with her.
Pet 19
Daphne: Kitty, while you were in the basement with the children, the animal protection people called. I told them you'd be calling back as soon as possible. Kitty: Thanks. I guess they found the owner then. Chase: You go ahead and call them right away. I'll have a little private chat with Rosie in the meanwhile, if you don't mind. Kitty: Depends on what that chat will be about. All right, just remember to keep it extra nice.
Pet 20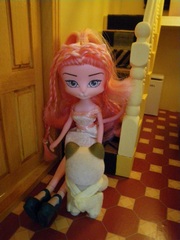 Chase: So, Rosie. How do you like the new housekeeper, Daphne? Rosie: Daffy! Chase: Daffy, huh? Do you like her? Rosie: Bunny. Chase: Yes, she's a bunny. Big ears and all that. Is she nice? Rosie: Daddy scare. Chase: An entire sentence. Very good, but I have no idea what you're trying to tell me. I'm sure your daddy isn't scared of anything. Rosie: Daffy up. Chase: This is getting interesting.
Pet 21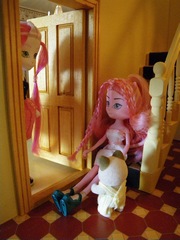 Chase: ...so, any idea what she's talking about? Kitty: She really said that? That's wonderful! She's finally starting to talk! Chase: Yes, it looks like it. So, what was it? Kitty: Daphne got a bit startled when she first saw Riddick. Chase: That explains "daddy scare." Daffy up? Kitty: She jumped. Almost to the ceiling. Chase: Teehee. Too bad I wasn't here to see it. - So, what about the puppy? Kitty: They tracked the owner and she said that if somebody's crazy enough to want her, they're welcome. Apparently she had destroyed some very expensive carpeting and furniture. Chase: I told you she's bad news. Kitty: Nonsense. You can always buy new stuff. Besides, training will fix the problem. Bea will be so happy. I'll go and tell her the news right away.