Joey 1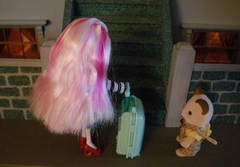 Joey: Mum, it's the wrong house! Callie: No, this is their new house. It's really wonderful, just wait and see. Joey: Do I really need to stay all weekend? We were supposed to go and see the game. Callie: I'm sorry about that, dear. I couldn't say no to my boss. The case is much too important. And if it goes well, I'll get a nice bonus and we can take that trip we've been talking about. Joey: Promise? Callie: I promise. And I'm sure you'll have a fun weekend with Bea. You like her, don't you? Joey: She's okay. For a girl.
Joey 2
Callie: Thanks again for taking Joey. Kitty: No problem, we're happy to have him here. Joey: You moved. Kitty: Yes, we did. How do you like it? That's the dining room. I'll show you the rest of the house in a minute. Callie: Here are his things. Joey: The suitcase is not mine, it's mum's. Kitty: I thought so. A bit too girly for you, right? Joey: Right.
Joey 3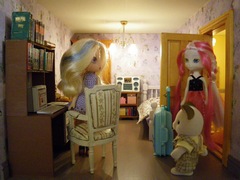 Kitty: Mary, Joey's here. Mary: Okay, I'm just taking some things. Kitty: Joey, you'll be sleeping here. Joey: But it's Mary's room. Where's she going to sleep? Mary: Don't worry about me. I've got the entire basement for myself for the whole weekend. You can have my room. Joey: What's in the basement? Mary: Dad's room. It's really big and has its own front door. It's like having an apartment of my own.
Joey 4
Bea: Joey! You're here! Joey: Yes. Kitty says I'm sleeping in this room. Bea: This is mine and Rosie's room. Come and see!
Joey 5
Bea: Isn't it great? I don't need to share a room with Mary anymore. Joey: You're still sharing with Rosie. Bea: It's not the same thing. Joey: I guess not. Bea: What's wrong? Don't you want to be here? Joey: Mum and I were supposed to go and see the game this weekend, but now she's gone to work and I'm here. Bea: I didn't know that. What game? Joey: Baseball. Bea: What's baseball?
Joey 6
Bea: Let's go and see the puppy! Joey: You've got a puppy? Bea: I found her and the owner doesn't want her back, so she's ours now. Joey: What kind of a puppy? Bea: A really cool one! You'll see. She's in the kitchen. Kitty says we need to keep her there when she's left alone, because it's safer that way.
Joey 7
Bea: Daphne! I thought you had left already. Daphne: I'm going in a minute, I just put the dinner in the oven. Is this Joey? Bea: Yes. I showed him my room and now we came to see the puppy. Joey: You were right, Bea. She's really cool. I want one too, but mum says we can't have a pet, because it would have to be alone so much. Daphne: That's very wise. Although, you could get two pets, so they would always have each other for company. Joey: I don't think mum would like that.
Joey 8
Next morning: Joey: Tell us a story with cops and robbers and then the robbers get away. Riddick: Isn't it a bit boring, if you know the end before the story even begins? Joey: Why? The best part is before that happens. Riddick: All right, if you say so. Cops and robbers it is. Any objections, Bea? Bea: No, I like all stories.
Joey 9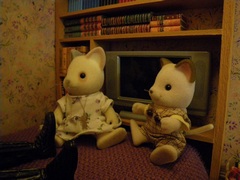 Riddick: ...and the cops had no idea how anybody had got in and out, but the diamond was gone... Joey, you've been fidgeting for some time now. Are you all right? Joey: I need to go to the bathroom. Riddick: Then you should go. Joey: I don't want to miss anything. Riddick: Go. We'll wait until you get back.
Joey 10
Bea: Joey's not happy. Riddick: What's wrong? Bea: His mom had promised that they would go and see the game, but now his mom had to go to work. Riddick: What game? Bea: Baseball. What is that? Joey tried to explain it, but it sounded really complicated. Riddick: You've never seen baseball? Maybe we should fix that. It's probably too late, but I'll check if there are still tickets available. But not a word to Joey. Bea: Are you going to surprise him? That would be great! Riddick: He's coming back from the bathroom. Remember, not a word.
Joey 11
Gaby: So, how did the audition go, Beth? Beth: I got a really small part. Max had better luck, though. Ruby: What about Max? Beth: The director saw him and wouldn't give up until he had agreed to be in the movie. I don't know what kind of a part it is, I doubt that even the director knows it yet, but he was just saying "he's perfect!" Over and over again. I think I got my part because they wanted Max. It's okay, I just want to get to see it all.
Joey 12
Bea: Mary, may we come in? Mary: Bea, you're not supposed to... Bea: I know, but Joey wants to see what's in here. We won't stay long. Gaby: Let them come. I don't mind. Beth: Me neither. Who's your friend, Bea? Bea: Joey is... um, he's sort of a cousin, but I don't remember how it went... Mary: It's a bit complicated. I'll explain it later. Joey, these are Beth, Ruby and Gaby.
Joey 13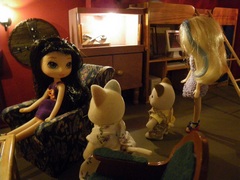 Mary: How do you like it? Joey: It's really cool! Are those real? The guns and the blades? Mum won't let me have even toy guns. Mary: Yes, they are all real. I'm sure you can have stuff like that when you grow up. They're too dangerous for children. Bea: We got a new puppy. Ruby: Really? What's his name? Bea: She's a girl and she doesn't have a name. Gaby: But she must have a name. You need to give her one. Just think about how funny it would be to call her puppy when she's all grown up. Bea: I hadn't thought of that. I'll ask Kitty. Mary: I'm sure you can name her, Bea. After all, you and I found her, and I'm happy to let you decide.
Joey 14
Riddick: Hello girls! I know I wasn't supposed to come here today, but I was looking for Bea and Joey. Who, by the way, shouldn't be here either. I'm sorry, Mary. Mary: It's all right. It's not like we're doing something secret here. Joey: Did we do something wrong? Riddick: Don't worry about that. Come on, we need to hurry or we'll be late. Joey: Late for what? Riddick: It's a surprise. You'll see.
Joey 15
Gaby: So, what's the deal with Joey? You said it's complicated. Mary: It is. You see, Kitty's grandma Anika had a husband before Kitty's grandfather and she got pregnant and the husband died and then Anika gave the baby for adoption. That baby was Joey's grandmother. Ruby: Wow, that is complicated. Wasn't there something about that in Rosemary's show? I didn't see it, but I saw something about it in a magazine. Beth: That's right. I saw the show. I always watch Rosemary's show. Joey's mother is called Callie, right? Mary: Yes. Kitty and Callie went to the show to put the record straight. Otherwise people would have come up with all sorts of crazy theories.
Joey 16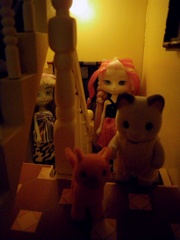 Anika: I thought Joey was supposed to be here this weekend. Kitty: He is, but he's out with Riddick and Bea. They'll be back in a few hours. Anika: Out? Kitty: To see a baseball game. Callie had promised to take him, but then her boss needed her. Joey told Bea and Bea told Riddick and he managed to get tickets through a friend. Anika: And he did it for Joey? Kitty: Sure. And because Bea has never been to a baseball game. Anika: Where's Mary? It's so quiet here. Kitty: Mary's in the basement with her friends.
Joey 17
Kitty: Mary got the basement for herself for the weekend for giving her room to Joey. Anika: Not a great sacrifice, I take it? Kitty: No, especially as we promised to stay out of there. Anika: And what does Riddick think of that? After all, it was supposed to be his room. Kitty: He doesn't mind. At least Mary's got friends. It would be a lot worse if she didn't. Anika: Yes, I can see the point. So, who are they? Kitty: Ruby and her friend Gaby, who's a movie star, well, not exactly a star, but she has a lead role in a horror movie. And then there's Beth, the new girlfriend of one of our friends. Anika: Sounds like they're all older than Mary. Kitty: They are, but not that much, and they are all very nice, so there's no need to worry.
Joey 18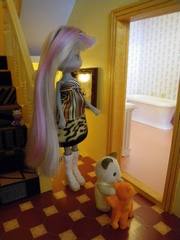 Anika: Are you sure it's safe to let that beast near Rosie? Kitty: The puppy? She's been very well behaved and obedient so far. I think the former owner just didn't know how to treat her. Anika: What happened? Kitty: According to the owner, she destroyed expensive carpeting and furniture. We've seen no destructive tendencies so far, so I suspect she was just bored. I think the owner's mistake was to think of her as an object to be displayed, not as a living creature who needs love and attention. Anika: Well, she seems to be getting that here. I've never seen Rosie this excited before. Kitty: Yes, they're getting along very well.
Joey 19
Beth: It's a pity that Ruby and Gaby had to go. Mary: Ruby needs to open the bar and Gaby's helping her today. Beth: I wonder why. She's a movie star, she doesn't need to do stuff like that. Mary: They're old friends. I suspect there won't be much work to do this early, they just want to spend time by themselves. Beth: Ruby's been really nice to me. I thought she and Max... Mary: What? Oh no, it wasn't like that. Ruby was with Zeke before Schizo. Max was always just a friend. I'm sure Ruby's just happy that Max is happy. Beth: I guess I've misunderstood something then. So, don't you have a boyfriend? Mary: Are you saying you don't know? Beth: Know what? Mary: I thought Max has told you. I had a boyfriend, you may have read about him, you see...
Joey 20
Beth: I'm sorry. I didn't know. Mary: It's all right, I'm over it now. He was a jerk. Beth: He certainly was, if he did that. I read about the trial, but I had no idea... I guess I'm a bit old-fashioned, but there are some things that just aren't done. I mean, it's not like they were blood relations, but still... Mary: I know. Well, at least you don't need to worry about something like that happening. Beth: Max hasn't talked much about his family, but from the little he has said, I gather they have all passed away. That must have been a very long time ago. Mary: I guess so. Kitty once said to me that I shouldn't ask him how old he is. Beth: I wouldn't want to know. You know, just the thought of it makes me wonder how I compare to all the other people he has known. Mary: You mean all the other girls. I'm sure he's too nice to even think of things that way.