Scooter Returns 21
A bit later: Scooter: Eeek! Who's that guy in the corner? Ruby: What do you mean? Which corner? Scooter: There, on the stove. Ruby: There's no one there. Are you making fun of me?
Scooter Returns 22
Scooter: Ah, the little creep. I can call you that when Ruby isn't around. Who's your friend? I already saw him earlier and he gave me quite a shock. Orlock: I would appreciate it if you called me Orlock, not a creep. And what friend? Scooter: You too? I'm sure you can see that clown standing beside you. Orlock: Clown? There are no clowns here. I think Kermit has caulrophobia. Something to do with a French clown and frog legs, I heard...
Scooter Returns 23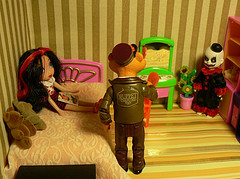 Scooter: Ruby, you've got to help me... Eeek! It's that clown again. Tell me you can see him. Ruby: Scooter, are you quite sure you're all right? Max said you talked about some clown, but there are no clowns here. I've heard that Kermit never hires any clowns. Scooter: Then who's that guy in the corner? Ruby: What guy? You're starting to scare me.
Scooter Returns 24
Scooter: Kitty, I know you're still angry at me, but I need help. Kitty: My help? Why would I help you? All right, tell me what's wrong and I'll think about it. Scooter: There's a clown in black and red costume appearing here and there and no one else seems to see him. Have you seen him? Kitty: No, no clowns. Kermit's policy. Are you all right?
Scooter Returns 25
Scooter: I haven't had a drink for weeks. I've never before seen these things when I'm not drinking. Kitty: Interesting. I didn't know you were that heavy drinker. Scooter: Well, yes, I didn't think then that it would be wise to mention that... Kitty: But now it doesn't matter anymore, right?
Scooter Returns 26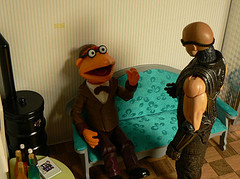 Scooter: Riddick, you're in charge of security. There's a stranger in the building. He's pale, short, dressed in black and red clown costume, and he has a small black hat and painted face. Riddick: Are you really expecting me to believe that? A clown? Can't be. And I haven't seen any other strangers either, but I'll keep my eyes open as always.
Scooter Returns 27
Scooter: I'm sorry if I scared you with that clown nonsense. I think I'm just a bit stressed. Ruby: Maybe you should rest a little. You'll feel better then. - Would you mind taking a step back? You're getting too close. Scooter: On the contrary, I think I'm not close enough.
Scooter Returns 28
Scooter: I know you like me. Ruby: Are you drunk? Scooter: Just a little. As I said, I'm a bit stressed, so I needed a drink... OK, a few. Ruby: Get away from me! Scooter: You're just playing hard to get, but it's all right, I know it's part of the game. Ruby: Go away! Leave me alone!
Scooter Returns 29
Scooter: You're crazy! Riddick: What's going on? - Ruby, I think you should let that cleaver be. - Ruby, it's all right. You should stop now.
Scooter Returns 30
Scooter: She... she... kicked me... and then.. she started... throwing stuff at me... Riddick: Just like that? Totally unprovoked? I find that very hard to believe, especially as I'm not deaf and I'm not the only one who heard.
Scooter Returns 31
Scooter: I wasn't doing anything... She just went nuts. Riddick: Yeah, sure. I think Kermit may have something to say to you. Maybe Wendy too, if we're really lucky and she's here. Let's go. Alternatively, I could give Ruby the frying pan and leave you two alone for a few minutes. How does that sound? Scooter: Let's go.
Scooter Returns 32
Schizo: You have been a very bad boy. I would have taken that cleaver and chopped off a few of your less vital body parts. Maybe that's what she was planning to do before she was interrupted. It's a pity you have to go already, but maybe I'll see you in your dreams. Scooter: Can't you see that horrible clown? Take him away! Riddick: What are you talking about? I guess you're crazier than I thought.
Scooter Returns 33
Riddick: By the way, Scooter, do you know Hagrid? You have been here before, so you should. Scooter: Yeah, the big guy. The sort you wouldn't want to make angry unless you were seriously suicidal. What about him? Riddick: He's Ruby's uncle. Scooter: No. You're just joking, right? - You're not joking...
Scooter Returns 34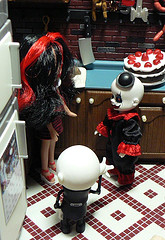 Max: Ruby? Are you all right? Ruby: I... I'm not quite sure. I was going to hurt him really badly. Schizo: But you didn't and that is all that matters. I hope you didn't mind the little extra performance, I just thought he deserved it. Ruby: Oh, you were great. Schizo: Max, go and get Kitty. I'll stay with Ruby.
Scooter Returns 35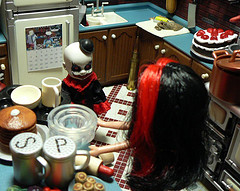 Schizo: That Scooter isn't very clever, is he? It really is a pity Riddick got here so fast. Ruby: No, it isn't. It's a good thing, because I'm not sure what I would have done. Schizo: I was here before Riddick and I wouldn't have let you do anything with the cleaver. But it would have been fun to see him even more scared. Ruby: I think the "bad boy" bit did the job quite nicely.
Scooter Returns 36
Kitty: Ruby, Max just told me what happened. Are you all right? Ruby: He really freaked me out. Kitty: Max also told me about the extra performance. It would have been fun to see that. I hope you all agree with me that the plan needs a small change. We are not going to tell him the truth about his "hallucinations." Agreed? - Good. I'll tell Riddick. I hope he hasn't said anything to Scooter yet.
Scooter Returns 37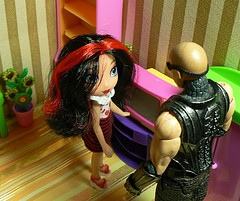 Riddick: Are you all right? You weren't quite yourself there. Ruby: I just got so angry. I've never done anything like that. Riddick: You didn't do anything wrong. Ruby: No one was supposed to get hurt... Riddick: It was his own fault. He shouldn't have done that. You had the right to defend yourself, although the cleaver would have been a bit too much.
Scooter Returns 38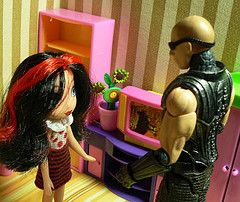 Ruby: Where is Scooter now? And how is he? Riddick: He's got a headache. You hit him right in the head with that bowl. And he's under arrest. Wendy wasn't at all happy when she found out that the "misunderstanding" that led to Scooter being fired from his previous job was something similar to this. But the strangest thing was that Scooter actually asked me to hand him over to the police when he heard about you and Hagrid.
Scooter Returns 39
Riddick: No horror movies tonight? Ruby: No, I've had quite enough excitement for one day. - Riddick? After we have watched this program, will you stay until I fall asleep? Riddick: Of course, if that's what you want. Ruby: And Kitty won't get angry? Riddick: No, she won't. She understands that you have had a rough day.
Scooter Returns 40
Kitty: I don't understand. The last time he behaved perfectly well, except for the nasty remarks on Marv and Max. Why would he do something like that all of a sudden? Riddick: He was drunk. I'm not saying it's an excuse, but it would explain why he was different. He just had no idea what he was getting himself into with Ruby. She seems to have a lot of anger inside her and Scooter was just a substitute target.
Scooter Returns 41
Kitty: Was she really going to use the cleaver? Riddick: It certainly looked like she was. I had no idea that she would be capable of that. It is not a bad thing as such, on the contrary, but she looks like she may not be able to control herself yet and that is definitely bad. Kitty: What did her father really do? There's something you're not telling me. Riddick: There isn't anything you should know.