Complications 1
Ruby: Kitty, have you seen Riddick's room? Kitty: Sure, I have been there briefly a couple of times, but he isn't comfortable with me going there, so I don't do that. Everyone needs some privacy, and he needs a bit more than most.
Complications 2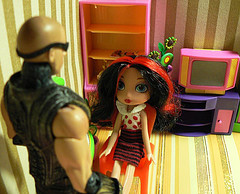 Ruby: Why won't you let anyone into your room? Riddick: Why should I? There's nothing interesting there and it isn't the sort of place you would feel comfortable in. It's just a place to sleep and store stuff in. Ruby: Why do you live in the basement? I'm sure Kermit could arrange you a better room, if you just asked him. Riddick: It's good enough for me and Toby. I like being away from other people.
Complications 3
Ruby: Max, have you ever been in Riddick's room? Orlock: No. He won't let anyone there. Ruby: Are you saying you have never gone there by yourself? Orlock: By myself? Are you crazy? Ruby: I'm sure it wouldn't be that bad. Orlock: If you're thinking what I suspect, I strongly advise you to forget it.
Complications 4
And so, a little later: Ruby: Is he really living in here? There isn't even a bed, just a mattress on the floor. And it's so grey and dull. How can anyone live like this?
Complications 5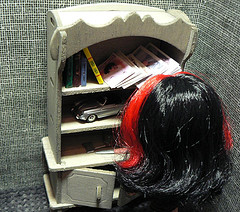 Ruby: Couple of books, some old magazines. I bet those aren't his. Still, funny seeing a cook book in his bookshelf. Binoculars, some tools... a scale model of a car. Why would he have something like that?
Complications 6
Ruby: I wonder what's in here. I should really be going, but I'll have a quick look.
Complications 7
Ruby: A gun? And who's that?
Complications 8
Riddick: Ruby. What are you doing here? Ruby: Oh... I... I was just... Riddick: Just being a little bit too curious? Ruby: I wasn't doing anything... just looking...
Complications 9
Meanwhile, elsewhere: Kitty: So, mother told you what I was asking about? Anika: Yes. I had been thinking about the same thing myself as it's starting to look like you're serious with that guy. I'm not the right person to answer your question, but I brought with me someone who may be able to help.
Complications 10
Anika: This is Dr. Bunsen. He is specialized in genetics. Kitty: It was nice of you to come, Dr. Bunsen. You didn't need to, you could have just called. Bunsen: Oh, no. I had to come. You see, this is an entirely new situation. Kitty: What do you mean? There are others like me.
Complications 11
Bunsen: Yes, of course, but we've never had a situation where this is happening in two generations. It isn't very usual to have someone of a different kind in the family in the first place and I've never heard of it happening twice in the same family. Kitty: What you're saying is that you have no practical experience on this at all? Bunsen: Ah, well... actually... yes. We know the theory, but we haven't been able to verify it. That is why I am very interested in seeing what will happen.
Complications 12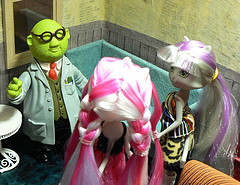 Kitty: Look here, doctor. First, it isn't sure anything will be "happening" at all. Second, if it will, I'm certainly not going to let you go poking around. And there's someone who would like the idea even less than me and it wouldn't be a good idea to make him angry. It could get really ugly. - I think you should go now as it seems you won't be able to help. Anika: But Kitty, wouldn't you like to hear at least the theoretical side of it?
Complications 13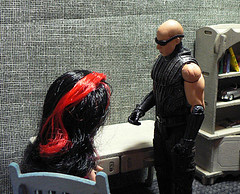 Riddick: You knew I didn't want you to come here. Why did you do it? Ruby: I just wanted to see... Riddick: I should have known. You're worse than Kitty. Sit down, we need to talk. Ruby: Are you angry? Riddick: I'm not going to do anything to you, if that's what you mean. You should know that by now.
Complications 14
Riddick: How did you get in here? The door was locked. Ruby: When dad was in good mood, he sometimes taught me some nice tricks. Did I tell you that he used to be a police officer before he became a security guard? You know, you really should get a proper lock for that door. I got in here under 10 seconds and I'm not that good. - Riddick, why do you have a gun?
Complications 15
Riddick: It's legal and I haven't used it for a long time. That's all you need to know. You must not tell anyone about it. It would not be safe, if people knew it's here. And another thing: If you break in here again, which I hope you will not do, do not touch the gun. I mean it. Ruby: Don't worry, I know enough about handguns to not fire one accidentally. But you're right, it would be much too big for me. Riddick: Let me guess, your dad taught you?
Complications 16
Ruby: He said it was safer to know how to handle a gun. You know, just in case. - My turn to ask a question. Who's the woman in the photograph? Riddick: You noticed that? - All right... I was going to marry her a very long time ago. Don't ask what happened. That is none of your business. Ruby: She looks like me. Riddick: Yes, she does. Does it bother you? Ruby: I'm not sure.
Complications 17
Ruby: Does Kitty know? Riddick: About her, yes. About the photo, no. Don't tell her, it wouldn't do any good. Ruby: I won't. - Do you still miss her? That woman in the photograph? Riddick: I... I guess I should have told you not to ask anything about her.
Complications 18
Kitty: All right. I guess it won't hurt. What does the theory say? Bunsen: Good. Now, this is what we have been able to deduce based on our knowledge of genetics...
Complications 19
Bunsen: ...but it would really help us, if we could see how it goes in practice. Kitty: Don't start that again. Basically, what you're saying is that it could go either way? Bunsen: Well, yes. Anika: Kitty, I told your mother a long time ago that it was a bad idea and it is starting to look like it would be even worse idea with you. Kitty: That's none of your business. There's only one other person who has anything to say about this.