Trouble 4
Riddick: I heard what you said in there. In case you're thinking of speaking to Veronika, I have only one advice: Don't. Piggy: Who are you to... Riddick: She won't get upset easily, but if she does, it's hazardous to your health. Understand?
Trouble 5
Piggy: I want you to get rid of those people. That... that woman... and her so called bodyguard. He's a thug. And he's got a dangerous dog and he lets it wander around here. Who knows when it will attack somebody.
Trouble 6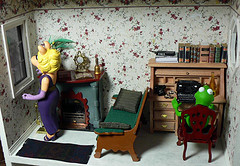 Kermit: But Piggy, she's popular and she will get us more viewers. Besides, I think she is very nice and there's nothing wrong with her being on the show. Piggy: You men are all alike. She's nice because she's got a lot of silicone and skimpy dress, that's what you mean, isn't it? Kermit: All I'm trying to say is we're going to get more viewers, which means more money.
Trouble 7
- That little... I'll show him. But first I think I need a drink.
The Body 1
Kermit: I was only gone for an hour. How can there be a dead body in my office? Riddick: You know her? Kermit: Sure, she's one of the assistants. You're some sort of an expert on things like this. What do we do now?
The Body 2
Holmes: My name is Holmes and I'm here to investigate the matter. This is my assistant, Dr. Watson.
The Body 3
Holmes: All right. You've all seen enough movies and such, so you know how this goes. I'll speak with each one of you separately and do some detecting and then I'll tell you who did it. Let's get started. I want to get home to my violin and opi... ummm, opera recordings. (Damn, that was Morse, not me.)
The Body 4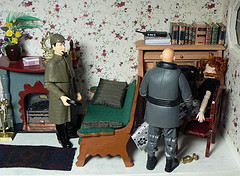 Watson: Looks like poison. Something instantaneous, I think. Holmes: Yes, yes, yes. Anyone can see that. Try to come up with something useful.
The Body 5
Holmes: We'll interview them here... Who are you? The Chef? Didn't anyone tell you about the dead body? Never mind. We can interview you first. Any chance for a little snack?
Kitty 1
Kitty: The poison's gone. Did you do it? Piglet: Of course not. If I had poisoned someone, it would have been Miss Piggy. Kitty: What do we do? We can't tell we took the poison from the safe. Orlock: Just keep quiet. That Holmes doesn't live up to his reputation nowadays.
Kitty 2
Orlock: How did the poison get left here? Kitty: Piglet was supposed to take it and the money, but of course he forgot the bottle on the sofa. Piglet: Why is everything always my fault?
Kitty 3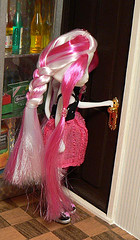 Kitty: Oh, Piglet, do you remember that I promised we'd put a dead rat behind the oven? Piglet: Yes?
Kitty 4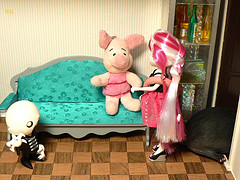 Kitty: We may have a small technical problem there.
Interviews 1
Holmes: I really hate it when there are foreigners involved. They are practically impossible to question. Did you understand a word he said? Watson: No, but the food is good.
Interviews 2
Veronika: I'm sure I have nothing to do with this. I don't even know these people. Holmes: What...? Yes...yes... You're probably right, but I'll have to talk to everybody.
Interviews 3
Holmes: What sort of a beast is that? The hound of Baskerville was a poodle compared to it. Riddick: Well, at least he looks terrifying. Judging from his recent behavior, I'm not sure if his character quite matches the looks.
Interviews 4
Holmes: (Penguins. What next?) All right, let's start. Do you always do everything together? I said I want to speak with you separately. Penguins: We were together all the time. No use telling the same things twice.
Interviews 5
Kitty: That big guy has been all over the place. Always says he's looking for his dog. Holmes: So? Kitty: Nothing. I was just thinking he might have seen something.
Interviews 6
Piggy: You're going to be around quite a lot, if you boss stays in the show, won't you? Riddick: I guess so.
Interviews 7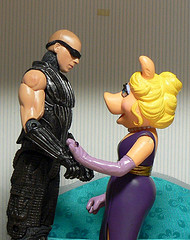 Piggy: What are you doing with that woman? She isn't just your boss, is she? You know, you could do so much better.