Interviews 8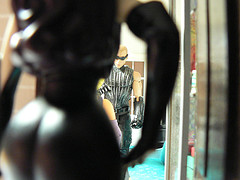 Riddick: Stop it. I saw you earlier and I can get you into a lot of trouble, so stay away from me.
Interviews 9
Veronika: Don't tell me you'd fancy some pork. Wow, I thought you had at least some taste. Riddick: Please don't. It was bad enough already.
Interviews 10
Veronika: Aww, poor baby. I hope you won't have nightmares.
Interviews 11
Piggy: Why are you asking me all these stupid questions? And what's an alibi? I didn't do anything and that's it. Holmes: No reason to get hysterical. This has to be done. But I guess there's nothing more you can tell, so you can go.
Interviews 12
Kermit: You know, I've been thinking... What if the poison was meant for me? It was my office and the assistant wasn't supposed to drink there, nor anywhere else during working hours. Holmes: Nonsense. Who would want to murder you?
Interviews 13
Holmes: I really wish people wouldn't bother me with trivial cases like this. It was a suicide. Nothing more to it. Now, if you'll excuse me, I've got better things to do with my time.
Interviews 14
Riddick: What did you think about the investigation? There was something odd, wasn't there? Kermit: You're right. I just can't believe Holmes would be satisfied with something else than the truth.
Interviews 15
Riddick: You know, I said something to Miss Piggy. I said I saw her and could cause her trouble. Of course I did no such thing, but she believed me and got really scared. If I were you, I'd be careful. Kermit: So you think it was intended for me?
Toby 1
Orlock: So the poison got lost, but what about the money? Kitty: I had it, but it's gone now. I paid that Dr. whatever to take his boss out of here. Piglet: So that's why the case was wrapped up so hastily.
Toby 2
Orlock: But why? Kitty: I didn't want either of them to find out where the poison came from. But now we have a problem. The poison is gone and so is the money. We're back where we started. How about another round, Piglet? Piglet: Oh no! I'm getting out of here.
Toby 3
Kitty: I don't think your thing works on him.
Toby 4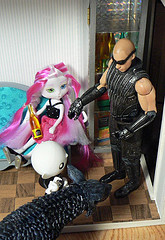 Riddick: I'm starting to think that I should go and demand my money back. He's supposed to be savage, not play Cheshire Cat with Nosferatu here. Orlock: I beg your pardon, my name is Orlock. Max to my friends, but you can call me Mr. Orlock.
Toby 5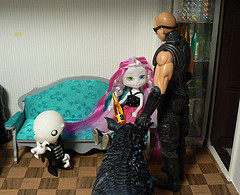 Kitty: Maybe he would do what you want, if you even bothered to give him a name. We're calling him Toby. Riddick: Is that so? Well, what the hell, he can be Toby, if that's all it takes.
Miss Piggy 1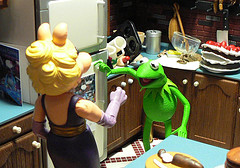 Kermit: Piggy, be honest with me. Did you put the poison in the bottle? Piggy: I'm sorry, I was so upset about everything. I won't do anything like that again. Kermit: Am I supposed to believe that?
Miss Piggy 2
Kermit: You do understand that I could have died? Thank goodness I hadn't had time to sack that stupid woman for drinking on the job. Piggy: You won't tell anyone, will you? I'll do anything. Can't we just keep quiet about this?
Miss Piggy 3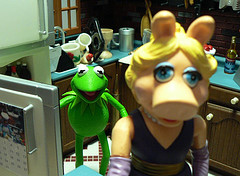 Kermit: Sure, I can keep quiet. Can you stay out of my way? Piggy: Kermit, how can you say things like that? - All right, I won't bother you anymore.
Miss Piggy 4
Kermit: Piggy, just out of curiosity, why do you keeping thinking we could have something when you're running after who knows how many guys? Oh yes, I had a little chat with Veronika. Piggy: Doesn't anyone here have anything better to do than stick their noses into something that doesn't concern them?