Sneezy 1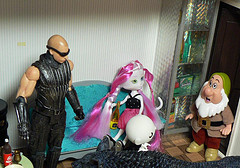 Riddick: Hi Sneezy! Veronika will be ready in a minute. You can wait here. Sneezy: Hi Riddick. I bumped into some green guy outside. Is he really a frog or was that a costume?
Sneezy 2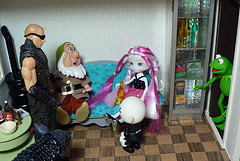 Riddick: Kermit, this is Sneezy, Veronika's husband. Sneezy, this is Kermit the Frog, and I guess that really answers your question.
Sneezy 3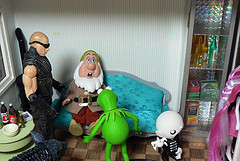 Kermit: Veronika's husband? Really? Well, it's nice to meet you.
Sneezy 4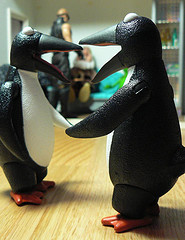 Penguin 1: Did you see that little man? He's Veronika's husband. Can you believe it? Penguin 2: Her husband? I thought he was auditioning for that Lord of the Rings spoof Kermit's been planning. Penguin 1: Tee hee. Maybe Kermit should offer him a part.
Sneezy 5
Kermit: Oh, hello. I wasn't expecting you this early. Welcome. It's really nice to have you visit in our show. You'll be the first Moomin to ever visit our show. Moomin Troll: Nice to meet you all.
Sneezy 6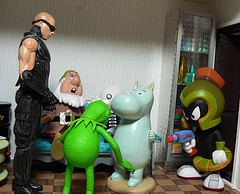 Marvin: Hold it! This man is a dangerous terrorist. He's one of the tela... tali... teletubby terrorists and he's here to cause disruption. Kermit: Who are you? And what are you talking about? This is our guest and he's a well-known international celebrity.
Sneezy 7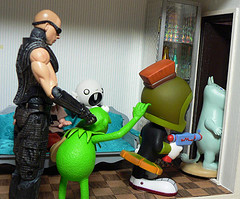 Marvin: I am from the office of national security. It is a well-known fact that all trolls are terrorists and this one is a Moomin Troll. That's all there is to it. Besides, teletubbies are soft and round, and so is this guy. OK, come on, let's go.
Sneezy 8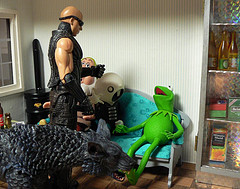 Kermit: Does anyone know a really good lawyer? I think he's going to need one. Orlock: Why didn't we just let Toby take care of that mean idiot? I'm sure he could have done it. Riddick: I know one lawyer. Expensive, but very good at scaring administrators.
Pink and Pinker 1
Kitty: Hi, what are you doing here? Chase: Piglet called and told me you're getting into trouble again. Kitty: He was exaggerating. You know him. There's nothing to worry about.
Pink and Pinker 2
Veronika: And who are you? Pink and Pinker? Kitty: I'm Kitty. We have actually met briefly. This is my sister Chase and this is Beelzebub. Veronika (thinking): What is this place anyway? A zoo?
Pink and Pinker 3
Veronika: There was yet another pink one. A little piggie. Where did you lose him? Kitty: Piglet. He got mad at me. He's around here somewhere, just keeping out of sight. - By the way, your husband's in there waiting for you.
Pink and Pinker 4
Chase: Could you do me a little favor? The landlord's coming for a visit and you know that "no pets" clause. Could Beelzebub stay here until he's gone? I'd rather not try to explain why he is not a pet. Kitty: OK, he can stay here. No one's gonna notice anything in this place.
Pink and Pinker 5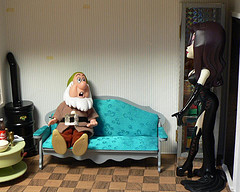 Veronika: Hello darling. Are you all alone here? Sneezy: I met Kermit, but then something very strange happened and he had to go sort things out. Veronika: Seems like something very strange is always happening here.
Pink and Pinker 6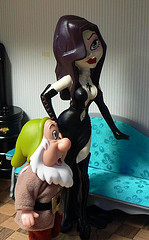 Sneezy: You know, I wish people would stop saying "Really?" whenever I'm introduced. Veronika: Darling, don't pay any attention to it. Most of them just don't understand and the rest are jealous.
Chef 1
Chef: Pssst! Could you come here for a moment? Riddick: Sure.
Chef 2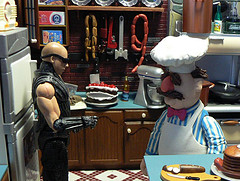 Riddick: Hey, how come I can suddenly understand what you say? Chef: I've been living in this country for over 20 years, of course I know the language. But do you have any idea how much easier life is when you can pretend that you don't understand most of what people around you are saying?
Chef 3
Riddick: So, what's the problem? Chef: Well, as I "don't understand the language", people get careless about what they say in here. I heard Kermit and Miss Piggy. It was her and Kermit is going to let her go.
Chef 4
Riddick: What's the problem? If I remember correctly, you're the one who was going to slice and dice that little piggie. Besides, I thought you love her. Chef: Could you love someone who's capable of poisoning people? Riddick: Sure, why not?
Chef 5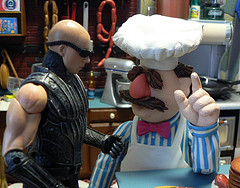 Riddick: You know, she seems to me a bit unstable, so if I were you, I wouldn't let her know that I know. Chef: You mean she might do something unpleasant? Riddick: I guess that's one way of putting it.
Lawyer 1
Riddick: Sorry about the delay. Something came up and then I called the lawyer. He was in the neighborhood, so he should be here any minute now.