Bunny
Bunny 1
Maria: By the way, you aren't scared of ghosts, are you? Bunny: Not a bit. My boyfriend investigates paranormal activity and writes books about it. It's totally fascinating. Maria: I see. And does that have something to do with you applying for the position? Bunny: Well... yes. You see, this place is special and I'd really love to see a real ghost. I hope you don't mind. Maria: Of course not. I need someone who won't run away at the first sight of something out of the ordinary. You're hired. Bunny: Thank you. This is so exciting.
Bunny 2
Maria: Vladi, just in time. Meet Miss Bunner, my new assistant. Bunny: Just call me Bunny, everyone does. Maria: All right, Bunny. This is Vladi, my husband. He doesn't share your enthusiasm with ghosts. Vladi: Don't tell me you hired some ghost nut. Maria: Vladi! I don't mind you calling me with all sorts of names, but that's just because we're married. Bunny is a hired employee and you need to be nice to her. Bunny: It's all right. I've heard worse. Paul, my boyfriend, says that people tend to get defensive when faced with phenomena they don't understand, like paranormal activity.
Bunny 3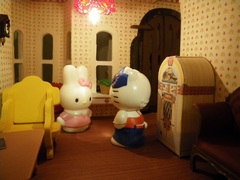 Maria: I'm really sorry about what he said. He doesn't always think before blurting out offensive statements. Bunny: Don't worry about it. I know all about grumpy old men. I took care of my father for years before he died. Maria: Speaking of grumpy old men, I guess I should warn you that Vladi's father is even worse. You probably won't be seeing much of him, but if you do and he says something nasty about your kind, just ignore it. He's got a superiority complex and thinks all others except their kind are here to serve them. Bunny: Well, we are here to serve customers, so it shouldn't be a problem.
Bunny 4
Maria: Speaking of the devil... Siegfried, what brings you here? We're not open yet. Siegfried: I can see that. Where's that idiot son of mine? Maria: Vladi is upstairs, sorting books. Siegfried: Books! Books and politics, that's all he ever thinks about. - Who's that? Maria: Bunny is my assistant. Siegfried: I should have guessed you wouldn't hire proper people.