Ghost Writer
Ghost Writer 1
Bunny: This is my boyfriend Paul, Paul Bunnyan. You may have seen some of his books in the bookstore. Maria: It's so nice to meet you. I'm Maria and this is my husband Vladi. Vladi: Books, you say? What kind of books? Paul: About paranormal activity. Vladi: Another one who's nuts about ghosts? I guess you two get along well. Similar hobbies and all that.
Ghost Writer 2
Bunny: This is Barb, Paul's literary agent. Maria: Agent? I didn't realize... Barb: Paul is a very good writer and his books sell really well. He's so good at finding out about ghosts in places where the most hideous things have happened. Vladi: Literary agent? You know, I'm quite good at writing and I've been thinking that maybe I could start by becoming a ghost writer... Bunny: Ghost writer, teehee.
Ghost Writer 3
Bunny: This is detective Wolf. Maria: Welcome. I'm Maria. It's always nice to meet a member of the law enforcement. I hope this is not an official visit. Wolf: I'm here with my wife, Barb. You just talked with her. Maria: Oh, I didn't know she's your wife. So, how do you feel about ghosts? Wolf: I know Paul writes about them and the books sell well, so I've got no complaints. Personally, I don't believe they exist. Although, I do wish there really is hell, because I've met a few who would deserve it. Like that last guy who went crazy here.
Ghost Writer 4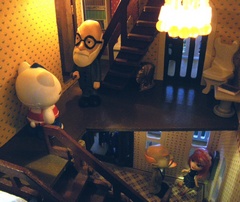 Siegfried: So, who's the bimbo? Maria: What bimbo? Siegfried: That one with pink hair, talking with Vladi. Maria: She's not a bimbo, she's a literary agent. You know Vladi's always wanted to write a book. Siegfried: What does he know about writing books? If I were you, I'd keep an eye on her. Women like that aren't safe around married men. Maria: You know, I've always wondered, how do you manage to get patients?
Ghost Writer 5
Bunny: Hello, I'm Bunny. Welcome to our cafe. Chip: Thank you. I'm Chip, Chip Irwin. I'm new in town. I just came back from the Amazon. Bunny: Oh, how exciting! What were you doing there? Chip: I worked as a guide for a group of biologists. They were looking for some new plant. I was hoping for a bit of adventure, but we only saw a couple of snakes. Bunny: I hate snakes. Chip: Of course you do. Who wouldn't? I remember one time there was this huge anaconda...
Ghost Writer 6
Paul: Have you thought about the interview? Barb said she talked about it with you. Wolf: Paul, I know you're a good writer, but your subject matter... I'm sorry, but I can't do it. It would harm my credibility. I'm sure you understand that. Paul: Yeah, I understand. How about off the record? Just tell me something that's not been told yet and I'll find someone else who's willing to talk about it on the record. You know all about what went on here the last time. You were the first one on the scene. Wolf: It's not something I like to remember. All right, there's one guy who's already retired. Maybe he will talk to you.