Ghost
Bunny: Maria! It's a ghost! A real ghost! Quick, bring the camera!
Grandpa
Grandpa 1
Maria: Children, where did you leave your grandpa? Lydia: He's coming. He's just so slow. Maria: Or maybe you're always running. So, did you have fun with him? Nancy: Ma, what's ee-dee-puss complex? Maria: Oh dear. Did he talk to you about that? Nancy: No, but he got a call and he talked about it on the phone. Maria: I see. We can talk about it later. Go in and Bunny will give you something to eat. Lydia: Okay.
Grandpa 2
Maria: Siefried. Siegfried: What have I done now? Maria: Oedipus complex? Siegfried: Did they hear that? Of course, I always forget their ears. It was a colleague I had consulted and I had to take the call. Maria: All right. I'll try to come up with something, if they still remember it later.
Grandpa 3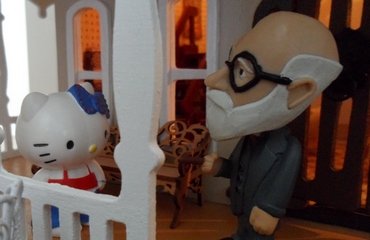 Maria: Did you have fun? Did the girls behave? Siegfried: Everything was fine. I just wish they wouldn't call me grandpa in public. People give me funny looks. Maria: You're the only grandpa they've ever known. You should be flattered. You know how most of us feel about outsiders. Siegfried: I know. Your kind has some very weird ideas. Just as well that they go for feline psychiatrists, when they have problems.
Grandpa 4
Siegfried: I know it's none of my business, but have you and Vladi ever talked about... Maria: Having one or two of our own? No. I mean, we have talked and the answer is no. Siegfried: Very wise. And I'm sure you have quite enough work with those two. Anyway, it's all about passing on the genes and your sister's genes are the same as yours, so... Maria: I'm not so sure about that. She was nothing like me. But your right otherwise. They're full felines and that makes life a lot easier.
Grandpa 5
Bunny: Hello, girls! Lydia: Ma said we could have something to eat. Bunny: Of course. Do you want food or just a little snack? Nancy: Snack. We already ate lunch with grandpa. Bunny: How nice! What did you have? Lydia: Grandpa had a really big steak, but we ate fish and french fries. Bunny: I thought you might have. I have noticed that felines prefer fish.
Grandpa 6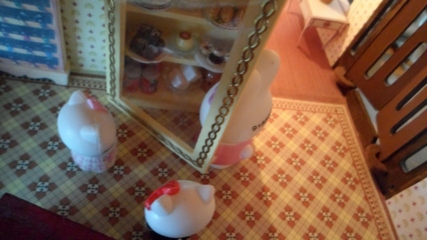 Nancy: Do you ever eat fish? Bunny: Oh no, I'm a very strict vegan. Only vegetables for me. I'm sure you know all bunnies are like that. Nancy: That's what the teacher said, but I just thought, you know, that all people are not the same. The teacher said that too. Lydia: Yeah, there could be a fish and steak eating bunnies somewhere, but you just don't know about them. Bunny: Well, let me know, if you ever meet one.
Grandpa 7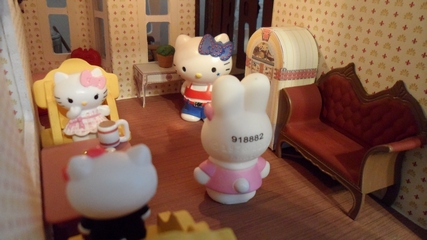 Maria: Donuts? Lydia: We already ate lunch with grandpa, so we can have dessert.
Grandpa 8
Nancy: Grandpa didn't order any, because he doesn't believe in desserts. Maria: I've never heard it put that way, but I know what you mean. He's very much against anything with sugar in it. Bunny: Did I do something wrong? Maria: Not at all, they can have donuts as long as they have had proper food first.
Grandpa 9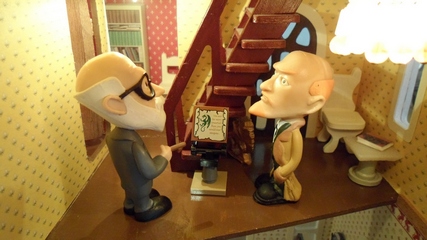 Siegfried: So, you're here again. Not working, I bet. Maria and that bunny have that covered. Vladi: I'm still adding to the collection. This is my latest acquisition. Siegfried: Dragons? Why do you collect such nonsense? At least that political stuff is factual, however misguided it may be. Vladi: This is by a very highly praised artist. We aim to acquire a civilized clientele. Siegfried: In addition to the ghost nuts? Oh yes, I know all about that so called "ghost tour."
Grandpa 10
Siegfried: Have you seen them yet? Vladi: Not yet, but Maria has talked with Boris on the phone and she said he seemed very organized and business-like. Siegfried: Sure. A proper con-artist, making people believe there are ghosts here and taking their money. How can you take part in something like that? Vladi: This isn't the only place they visit. Besides, we are not telling anyone that there are ghosts here. Our stance is that there are claims of ghosts being seen here, but no factual evidence has ever been presented.
Grandpa 11
Maria: Welcome! I'm Maria, the owner of the cafe. Albert: Pleased to meet you. We heard that the house is open for visitors again and we thought... Pablo: He wants to see where it happened. Maria: Certainly. I will show you. Pablo: And as we're here, we might as well have some coffee too. I noticed there's a balcony. Can we have the coffee there? Maria: Of course, all parts of the house are open for customers. Bunny will bring your coffee there. Albert: Thank you.
Grandpa 12
Maria: The attic is up those stairs. It's currently empty. That's where he caught her and... Well, you know what happened. Albert: Yes, I've read all about it. It is so exciting to finally be here and see for myself. Pablo: You know, your interest in all that stuff really isn't healthy. One day you're going to snap and hear voices and then you'll do something like that yourself. Albert: I will not. And it is not unhealthy. I am just interest in the facts. Siegfried (whispering to Vladi): Civilized clientele indeed.
Grandpa 13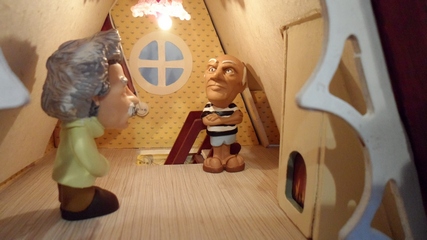 Pablo: Was this really worth it? This is just an empty room. Albert: Of course it's worth it. I can feel a genuine presence here. Pablo: No, you can't. You're just imagining things. And that is exactly why these so called haunted houses aren't good for you. Albert: You're always so skeptical. If only you opened your mind... Pablo: My brain would fall out. You know, I'm willing to endure these things up to a point, but now it's time to go down and have some coffee. At least that's real.
Grandpa 14
Bunny: Everything is set up. Enjoy your coffee. Pablo: Thank you. Bunny: Did you enjoy the tour of the house? Albert: Yes, very much. I'm certain I could feel a presence in the attic. Isn't that where the ghosts have been seen? Bunny: I think so. Actually, I once saw a ghost of a little girl in the stairs going to the attic. Albert: Really? Was she the latest one or...? Bunny: She was dressed in an old-fashioned nightgown, so it must have been one of the earlier ones. Albert: How exciting! Pablo: Yeah, really. Could we have the coffee now?