Taking care of business
Taking care of business 1
Dr. Dedwin: Here's the last batch. They're just stunned, not dead. Tina: Well, at least they'll be easy to handle. Dr. Dedwin: May I ask what you're going to do with them? We usually euthanize the ones that have been used for testing. Dana: Better not ask. Just take the money. Dr. Dedwin: Whatever you say. Not really my business anyway. They haven't been tested with anything contagious.
Taking care of business 2
Dana: So far, so good. Let's hope they won't wake in there. Tina: Knowing Dr. Dedwin, "stunned" means heavy sedation, so I don't think that'll happen.
Taking care of business 3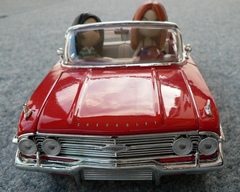 Tina: Drive carefully, we don't want cops checking the trunk. Dana: We're not doing anything illegal. Tina: There would still be awful lot of questions and the Chef is waiting. Dana: I'll be careful.
Taking care of business 4
A little later: Tina: Here are the last ones. We're really sorry, but the supply dried out. We'll need to find another one and it'll take some time. Chef: What a shame. Well, try to find something quickly. The demand for these keeps getting up. Dana: You can be sure we'll do our best. You're our best paying customer.
Taking care of business 5
Chef: Dum de dum de dum...
Taking care of business 6
Bear 1: Quick, he can be back any minute. Bear 2: Easy for you to say. You try climbing next time. Bear 3: Stop bickering and get on with it! What does it look like?
Taking care of business 7
Bear 2: We're too late.
Taking care of business 8
Bear 1: Again. Bear 3: We'll worry about that later. Come back up, but execute plan B first. Bear 2: Roger. Bear 1: Who's Roger? Bear 3: Shut up!
Taking care of business 9
Bear 2: Plan B executed. I'm coming up. Bear 3: Good. They won't feel too good after eating that. Bear 1: What is that stuff? Poison? Bear 3: Sort of. It makes you think you've got food poisoning. The Chef is going to get an official visit in a few days. Bear 2: Serves him right.
Taking care of business 10
Bear 1: I'd like to save someone once in a while. Bear 2: Me too, but it's so hard to get there in time. Bear 3: Men, this is no time to get discouraged. We're doing important work. Even if we don't manage to save our kind, we can affect the demand. Bear 1: What do you mean? Bear 3: Eventually, they'll realize what's making them sick and they'll find some other "delicacy" to crave for. Bear 2: Brilliant!